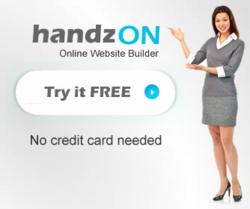 Easy HTML 5 Slideshow Gallery with no HTML needed.
San Francisco, CA (PRWEB) February 07, 2013
Handzon Website Builder announces a new HTML 5 CSS Deck slide show. This new slide show will allow infinite types of content within each slide. This means that content can be called from separate pages into the slide such as forms, images, flash, page content and more. This new Slide module extends the capability of standard image slide shows. Search engine optimization possibilities are greatly extended because of the many options available for each individual slide.
Using this method of pulling content from separate pages within the web site and converting them to interactive slides, will provide more targeted content for web site visitors. This gives customers greater impulse purchasing opportunities. This will lead to better conversions for products and services.
In addition, all Handzon interactive slide shows are fully HTML 5, and CSS compliant. Because of this, all slide shows will be optimized for mobile devices, iPads, iPhones, allowing "swipe" hand gestures for mobile devices. Most importantly however, all slide shows can be easily crawled by search engines. And as with everything that Handzon provides, there is no HTML knowledge required, [but programmers and web developers can extend the capabilities with access to HTML and CSS if needed].
Handzon web site builder will now provide three different types of slideshows:
The standard CSS slide show gallery - this slide show will allow multiple upload of images, custom transitions and no HTML required.
The standard thumbnails slide show - this slide show displays individual larger images and the system will automatically resize a thumbnail, once clicked, the slide show opens up in eight "Lightbox" effect [isolating the image in a larger view].
The CSS Deck slide show - this gallery allows fully interactive content from within the site to be displayed as a slide.
Extend sales opportunities using these powerful CSS HTML 5 slide shows. See more at http://www.handzon.com
About Handzon Sitebuilder
Over the last 10 years Handzon has been providing interactive drag and drop web site building services to tens of thousands of customers worldwide. As a testament to the powerful software, the actual Handzon.com web site has been created fully in Handzon Service. Handzon also offers a free version of the software, along with premium packages offering enhance modules and services along with a robust E commerce shopping cart.
For more information contact Michael Nieves at (415)-320-7483