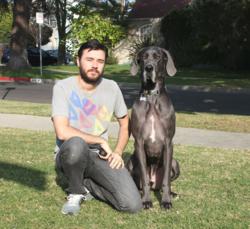 I really tried to approach this record as both a fan and a producer.
Los Angeles, CA (PRWEB) February 07, 2013
Ending a five year hiatus, "The Bronx" have hit the road with their latest album "Bronx IV", giving Producer/Mixer Beau Burchell some time to reflect on his production. Beau has known the band for over 10 years, recording some of "The Bronx" first songs that got them signed to their first label, Island Records, eventually ending up on their debut album. He has also recorded a few of their vinyl EP releases, mixed their 2nd "Mariachi El Bronx" record, and more recently engineered the theme song for "Aqua Teen Hunger Force" that "Mariachi El Bronx" did with "Schoolly D". But for the majority of 2012, Beau produced and mixed "Bronx IV" out of Joby J. Ford's studio "Big Game Lodge".
"Bronx IV" is getting stellar reviews, and Beau approached the record as both a fan and a producer. Beau says, "As a fan, I could see a band that consists of a ballistic crazy hard hitting drummer locked in with a pummeling bass player, surrounded by rip-your-face-off guitars. And on top of all of that perfectly controlled chaos, there was this half lunatic singer that you can't take your eyes off of, even when the drummer is puking from playing so hard."
Burchell wanted to try to capture that on a recording; to sound like a band made up of real people playing real music. He claims that too many records are edited to death and just sound like computers playing notes.
"We didn't go overboard with production," Beau continues, "so there were no edits on this record. Instead, we focused on the songs and made them stand on their own."
The vocals are much clearer on the "Bronx IV" than on previous albums, and Beau claims that it's due to a combination of Matt Caughthran growing as a singer and mastering his craft, and that vision Beau had as both fan and producer. "I'm really happy with the way it turned out," he adds.
Burchell has just finished recording "Single Mothers" (produced by Joby Ford), a London, Ontario punk band that is currently touring with "The Bronx" on 15 of their 18 UK dates. Other current projects include mixing a single for a band called "The Secret State", then he's gearing up to produce an EP for a band called "Fake Figures".
Beau recently produced and mixed records for Indie artists "Go Rocket Go", "Jean Noir", and "Tiger Tank", and mixed the new album by the Japanese punk band "Meaning". Some of the other albums he's mixed include "The Enemy", "Gallows" and "Cerebral Ballzy" (all produced by Joby Ford), "Middle Class Rut", "Armistice", as well as his own band "Saosin" where he wrote, played guitar and toured. A full list of Beau's credits can be found at BeauBurchell.com.
Regarding any future plans for a "Saosin" reunion, Beau adds, "Well, I just built a pretty big space at the back of my property that I'm filling with a new studio and I'm really excited about getting it up and running. As for "Saosin", we have some new songs up our sleeves, but it's really hard to solidify any plans while I'm so busy with other records."
Beau Burchell may have a lot on his plate, but time is definitely on the side of this talented producer. To read the entire interview with Beau Burchell, go to "Beau Burchell Produces "Bronx IV", the New Album from "The Bronx".
BWestMusic provides comprehensive music business services for record producers, mixers, engineers and musicians. To inquire about Beau Burchell or Joby J. Ford email Barbara@BWestMusic.com.