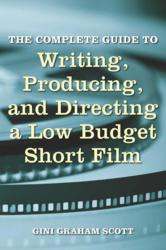 "Now you can discover the best of the latest DVDs to view from reviews of 140 characters or less."
San Francisco, California (PRWEB) February 07, 2013
Now there's a new quickie DVD review column for the social media that was recently launched by film writer and producer Gini Graham Scott, after seeing new DVD releases almost every night for three years. The reviews are written in 140 characters or less, so they can go on all social media platforms, including Twitter, Facebook, and LinkedIn. They feature a brief film introduction, highlight what's good or not good, and a give A+ to F grade to help DVD buyers or renters decide if they want to see the film. The most recent reviews can be viewed at #DVDlatestrecs or at the Changemakers Publishing page.
Some of the most recent reviews include the following:
Little White Lies. French story. Friends avoid the truth on vacation after friend injured. Good but overly long, complex. (B+)
Flight. Denzel great as airline pilot with drinking problem in crash investigation. Goodman unreal, ending a let down. (B+) (Feb. 6)
Seven Psychopaths. LA writer writing script about psychopaths encounters them. Amusing but hammy acting (B) (Feb. 3)
A great foreign film: Želary, a Czech/Slovak film. A nurse resistance fighter hides in a village, marries older man she comes to love. (A) (Feb. 3)
Hotel Transylvania. Cute animated tale about human at castle for monsters and vamp daughter wants to see world.(B+) (Jan 31)
The Paperboy. Terrific coming-of-age story in 1969 Florida. Mystery/murder as reporters try to free ex-con. Great actors (A) (Jan. 27).
Universal Soldier: Day of Reckoning. Sci-fi action. Guy wakes coma, family dead, seeks revenge. Poor story, characters (C-) (Jan 26)
End of Watch. Intriguing realistic film of ghetto cops. Slow in spots & found footage approach annoying. (B+) (Jan. 24)
To Rome with Love. Latest Woody Allen. Lives and romances of familiar actors, some too much themselves. Fun but predictable. (B+). (Jan. 20)
Compliance: based on true story. Complying with prank caller. Slow since much on phone but great (B+). (Jan. 20)
Frankenweenie in stop motion & see 1984 short (A), GameChange on Sarah Palin choice (A-), Hit&Run, amusing (B) (Jan. 16)
Hit and Run: Amusing but not great (B), Cosmopolis: Talky and boring (D). Breaking Bad: Great! Now on season 4. (A+) (Jan. 12)
Some recommendations for great films and TV series on DVD: Arbitrage, Breaking Bad, Luck, Boardwalk Empire, Mad Men. More recs each week. (Jan. 7)
The column -- #DVDlatestrecs – will feature 4 to 5 postings each week on the latest DVD releases, and should DVDs be phased out, the column will feature the latest downloads. Why reviews of DVDs and not the latest films? Because Gini Graham Scott likes to watch films in the comfort of her home on a 42" wide screen, instead of going to the theater, once the films are released for home viewing.
Scott brings to these reviews a long experience in the film industry as a writer of over 15 scripts and the writer/producer of over 60 short videos featured on Changemakers Productions' YouTube channel: changemakersprod
She is also an author The Complete Guide to Writing and Producing a Low-Budget Short Film published by Hal Leonard's Limelight Editions, as well as the author of over 50 books published by mainstream publishers, including Random House, Simon & Schuster, and AMACOM.
Her latest video is an elaborate Hollywood-style short film based on the full length features Dead No More, a suspense thriller about a woman brought back after 20 years in cryonics suspension. Website for film writing and production is Changemakers Productions
Gini Graham Scott is also the founder of Changemakers Publishing and Writing
Besides publishing over 30 books through Changemakers Publishing, the company helps others write, publish, and promote their own books.
Scott received a Ph.D. in Sociology from the University of California in Berkeley, a J.D. from the University of San Francisco Law School, and M.A.s in Anthropology, Mass Communications and Organizational/Consumer/Audience Behavior and Popular Culture and Lifestyles at California State University, East Bay. She is getting an additional MS in Recreation and Tourism in 2013. She has spoken about the topics of her books to many groups and the media, including appearances on Good Morning America, Oprah, and CNN.