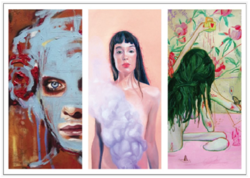 San Francisco, CA (PRWEB) February 07, 2013
Mirus Gallery announces the opening of Through the Looking Glass: Refraction Through the Female Gaze, a group exhibition featuring works by Kimberly Brooks, Sandra Chevrier, Naja Conrad-Hansen, Mercedes Helnwein, Alexandra Levasseur, Jen Mann, Sari Maxfield, Alyssa Monks, Jennifer Nehrbass, Casey O'Connell, Claire Pestaille, Rachel Walker, Janelle Wisehart and Christine Wu.
The opening reception is being held on Saturday, February 9 from 6 pm until 10 pm and will be open for view during normal gallery hours Tuesday through Saturday from 10 am until 6 pm. The event is free, open to all ages and is providing complimentary gourmet sushi and sake from the celebrated Ki Sushi, also housed inside of Zen Compound.
Through the Looking Glass is the third exhibition to be presented by the newly opened Mirus Gallery, and will examine contemporary representations of the female form. Through the Looking Glass reinterprets the presentation of women's bodies through a variety of mediums and practices unified by subject matter and a solely female perspective.
The artists featured in the Through the Looking Glass challenge the preconceived notion that the female form in art represents a sense of delicacy and untouchable beauty. Creating a new discourse and exploring the woman's role in artistic context, Through the Looking Glass is a celebration of the female form that ultimately transcends objectification through the artist's examination or association with their subjects. Rather than using the female body as an agenda to reinforce societal norms or assert dominance, the artists are able to identify with and explore the spectrum of their subject's humanity, often as an exercise in self-examination and exploration. The works featured in this show are a contemporary examination of the psychology of art practice and explore alternative realms the female body is represented.
Kimberly Brooks investigates roles of women as both artists and subjects of the gaze. By inverting the artist-model relationship her practice aims to breakdown the traditional role of spectator, allowing her model the agency to look out from the canvas and stare at viewer. In examining contemporary fashion and style, Brooks addresses the role that women themselves play in the perpetuation of certain cultural tropes, and the significance of appearance in depictions of women in art and media.
The work of Rachel Walker borders upon the abstract and the illustrative, presenting the previously marginalized perspectives of female and queer artists. Her works in gouache support immediacy and honesty in her subject matter, the rapidness required by the medium lends itself to an art practice based upon intuition and chance.
Mercedes Helnwein examines the myth of the "normal" through her drawings of women and girls outside of the mass media lexicon. With an outsider's attention to the seemingly banal, Helnwein draws out the eccentricities, oddities and cultural mash up she finds thriving in the backwaters of American life. The exactness of emotion allowed by her use of pencil brings to surface some of the inner struggles and temptations masked by her female subject's need to "be good".
Claire Pestaille's collages challenge a consumer culture that dictates the relentless pursuit of perfection by examining how advertising, Hollywood and other media inform women's self image. By focusing on the female form, Pestaille is able to bring awareness to women's experience outside of standardized art historical portrayals.
Approaching her practice as a dialog between her adolescent self, and the woman she is now, Casey O'Connell paints in acrylic and oil stain as a scrapbook of her life and emotions. Her use of female characters lends itself to greater intimacy and relevance to her personal experience, with imagery meeting somewhere between fantasy and honesty.
Through the Looking Glass promises to be a new approach to depicting the female body artistically, with a multitude of perspectives, cultural experiences and specializations. Through the Looking Glass opens Saturday, February 9th from 6 pm until 10 pm and will be on view during regular gallery hours Tuesday through Saturday from 10 am until 6 pm through March 2. Mirus gallery is lovated at 540 Howard Street, San Francisco, Ca.
For more information about Mirus Gallery please visit http://www.mirusgallery.com or contact Monica LaStaiti at Monica(at)mirusgallery(dot)com or at 415-543-3440.
About Mirus Gallery of the Zen Compound
Mirus Gallery is a dynamic exhibition space established by entrepreneur, Paul Hemming. The gallery features a program of contemporary artwork by emerging and mid-career artists in both solo and thematically organized group shows. Mirus Gallery will highlight work that emphasizes skill and process and aims to engage viewers on a sentient, emotional and evocative level.
In 2013, the initiation of an artist-in-residency program will pursue the gallery's values of community and collaboration by providing a live-in/on-site studio space for artists to make and exhibit work in a supportive environment, conducive to creativity.
Gallery Hours
Tuesday – Saturday 10-6
Gallery Contact
Monica LaStaiti
monica(at)mirusgallery(dot)com
(415) 543-3440
Location
540 Howard Street
San Francisco, CA
94105
Media Contact
Danielle Grant
danielle(at)aopublic(dot)com
415.860.0767