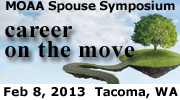 Alexandria, Va. (PRWEB) February 07, 2013
Washington State's senior Senator, Patty Murray will speak at the 2013 MOAA Military Spouse Symposium "Keeping a Career on the Move," hosted by the Military Officers Association of America (MOAA).
What: Military spouses, service members and veterans are invited to attend the free 2013 MOAA Military Spouse Symposium "Keeping a Career on the Move,"
Who: Hosted by the Military Officers Association of America (MOAA). Approximately 300 military spouses, service members and veterans expected to attend.
When: 9 a.m. to 3 p.m. on Friday, Feb. 8
Where: University of Washington Tacoma (Philip Hall).1918 Pacific Avenue, Tacoma, Wash. Symposium participants may park for free in either the Cragle Lot or Lot WT31 on 21st and Jefferson

To access the Cragle Lot, turn north on Dolly Roberson Lane from 21st Street
To access Lot WT31, turn north into the lot from 21st Street
ADA parking is available on Dolly Roberson Lane
Background:
Military spouses looking for a job now or preparing for a future career will find workshops, experts and employers who can help. Five minute resume critiques will be available throughout the day. This award-winning event, made possible in part by executive sponsor TriWest Healthcare Alliance, and with support from the University of Washington Tacoma, is free and open to all military spouses.
The symposium will kick off with a panel that includes representatives from Amazon, Starbucks and USAA, entitled "Five Things Employers Want You to Know." Attendees will learn useful information on landing a job as a military spouse and the panelists will answer questions about résumés and the interview process.
There will be two Concurrent Session workshops in the morning at 10:45 and 11:55 a.m., and an afternoon panel "Spouse and Policy Panel: Do education and employment programs and policies work? Military spouses and policy experts discuss." To view the schedule of events visit http://www.moaa.org/spousesymposium/#Schedule.
Media Note: All media, who are interested in attending the event, please email name, outlet and contact information to pr(at)moaa(dot)com. Media check in is outside Philip Hall at the University of Washington Tacoma on Feb. MOAA public relations contact can assist you with meeting subject matter experts and other interview candidates at the event.
Interview/Story Possibilities:
1. MOAA's President, retired Navy Vice Adm. Norb Ryan, Jr., will be available for on-the-record interviews about all aspects of military compensation and is very quotable. He is a former Chief of Naval Personnel and Chief of Legislative Liaison. Adm. Ryan was named 2010 Association Executive of the Year by Association TRENDS.
2. Monique Rizer, deputy director for spouse programs for MOAA, is a nationally-recognized expert on issues related to being a military spouse. She is a certified instructor of the career development workshop, Dependable Strengths. Rizer grew up in the Northwest and attended Pacific Lutheran University in Tacoma before graduating from Gonzaga University. She holds a MS from Syracuse University. Monique is among the first class of Gates Millennium Scholarship program in Seattle, a full ride academic scholarship program of Gates Foundation. She was recently named one of the 17 Massively Successful Military Spouses by SuccessfulMilitaryWife.com.
3. Karen Golden, deputy director for military family issues in MOAA's Government Relations department, is a nationally-recognized expert in policy related to military spouses and families. She has more than a decade of experience working on Marine family readiness programs. Most recently, at Camp Pendleton, Calif. she served as both a Family Readiness Assistant and as a Representative for the National Military Family Association. Having served in both military and civilian school systems, she has particular empathy for military children's education issues. She is the recipient of the Army's, Outstanding Civilian Service Award and the Navy Marine Corps Relief Society's Superior Service Award.
# # #
About MOAA:
Military Officers Association of America (MOAA) is the nation's largest officers association with more than 380,000 members from every branch of service, including active duty, retired, National Guard, Reserve, and former officers and their families and survivors. MOAA is a nonprofit and politically nonpartisan organization and an influential force in promoting a strong national defense. MOAA represents the interests of service members and their families in every stage of their lives and careers, and for those who are not eligible to join MOAA, Voices for America's Troops is a nonprofit MOAA affiliate that supports a strong national defense. For more information, visit http://www.moaa.org.