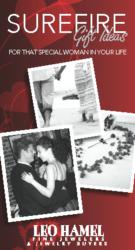 I want men to feel confident when they give any gift.
San Diego, CA (PRWEB) February 08, 2013
Leo Hamel Fine Jewelers announced today that the gift giving tips guide for men is now available, called Surefire Gift Ideas for that Special Woman in Your Life. The first Valentine's Day edition helps desperate men figure out what women really want for a romantic night. This and all future editions of the booklet will include important dates to remember and useful gift ideas from categories such as: romantic, relaxing, practical, fun, travel, jewelry, money is no object, on-a-budget, and last minute ideas.
"Most guys don't have an interest in or time for going shopping, and let's face it, sometimes we aren't very creative. The booklet makes it easy to pick out an idea because they're separated into categories and there are even little symbols indicating a staff pick or an idea that will take a bit more time. The booklet was designed to fit in my coat pocket or gym bag for discreet shopping," said Leo Hamel, Founder of Leo Hamel Fine Jewelers. "The ideas are interesting and different; not your typical flowers and chocolate. I plan to use one of the ideas for my own wife!" laughed Hamel.
The first edition booklet comes just in time for Valentine's Day, as every year men express their desire to forgo the traditional box of chocolates for something that will have a more lasting impression. The booklet is not just a quick gift-giving fix; it offers over 65 ideas that guys can be certain will not land them in the doghouse. The first 100 copies of the Valentine's Day edition will be signed by Leo Hamel and will include a personal note of inspiration.
"I want men to feel confident when they give any kind of a gift. We are in the business of celebrating love, so we have lots of practice suggesting gifts!" explains Hamel.
Copies of the booklet can be picked up during business hours at any Leo Hamel Fine Jewelers location.
Leo Hamel, a San Diego native and owner of Leo Hamel Fine Jewelers & Jewelry Buyers, started buying and selling jewelry over 30 years ago. Leo Hamel Fine Jewelers has been voted the best Jewelry Store by U-T San Diego readers each year since 2010, and has received numerous awards and accolades throughout its tenure in San Diego. Hamel, whose business is still family run after three decades, employs over 40 San Diegans, including a Hearts On Fire Champion, who has earned the title of top Hearts On Fire salesperson in the world for three years running.
The retail fine jewelry store location near Downtown San Diego offers vintage jewelry, diamonds, and fine watches, while nine jewelry buying locations are scattered throughout the county in San Diego, La Mesa, El Cajon, Solana Beach, Oceanside, Escondido, Rancho Bernardo, Chula Vista, and new location Mira Mesa.