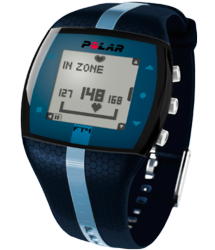 You can spend a ton of money on a heart rate monitor but you can get the job done right with the books I've written and a unit like the Polar FT4
Bozeman, MT (PRWEB) February 07, 2013
Polar FT4 is probably known as one of the best heart rate monitors for under $70 available anywhere and a brand new blue color for men is now available at the Heart Rate Watch Company.
"Polar has shifted to the new Polar H1 transmitters which are only three-eighths of one inch thick", says Rusty Squire, President of the Heart Rate Watch Company. He adds, "The new Polar soft strap is also far better than the Wearlink for comfort and transmission consistency - its a whole new game."
The Polar FT4 offers graphical target zones that tell you when you are burning fat and when you are improving aerobic fitness. "This watch doesn't download to Polar Personal Trainer", says Squire. He adds, "It is for those who want real-time feedback and a workout summary at the end - keep it simple".
FEATURES:
Body measurement features include automatic age-based target zone, average and maximum heart rate for each session, HeartTouch – button-free operation of wrist unit, user replaceable battery, back light, water resistant to 30 meters, stores 10 training files, calorie expenditure and a lot of features for under $70.
"This has always been one of my favorite heart rate monitors for the "let's keep it basic" crowd", says Squire. He adds, "You can spend a ton of money on a heart rate monitor but you can get the job done right with the books I've written and a unit like the Polar FT4".
To purchase a heart rate monitor that does, heart rate, speed, distance, continuous zones and more can cost well over $200, but to get solid heart rate data, good strap comfort, calories and more costs less than $70. "This is why it is tough to discount Polar and the new FT4 in blue is really nice looking too - we just looked at one of the first units tonight and they look very nice", says Squire.
Of course those looking for speed, distance and download capabilities might check out the new Polar RC3.
FREE BOOKS
The Heart Rate Watch Company also offers all visitors (yes, you don't even have to buy) two free fitness books entitled "How To Successfully Use A Heart Rate Monitor" and "How To Elevate Fitness With Strength & Interval Training". "These books are free to anyone, simply download them from our website with no purchase necessary", says Squire.
The new Polar FT4 blue is available for order now with same day shipment at the Heart Rate Watch Company and other select retailers nationwide. "We don't just sell this stuff, we have real world-class athletes testing it right here, right now - no posers!", says Squire