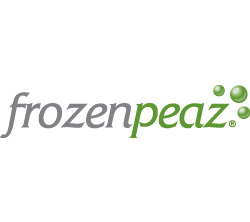 In developing new products, it pays to be curious", noted Arthur Blackwood, co-developer of FrozenPeaz®.
Chicago, IL (PRWEB) February 07, 2013
FrozenPeaz were recently nominated for the DuPont Tate & Lyle Innovation Award program for cosmetic and personal care products utilizing Zemea®. The winner will be announced Feb. 25, during the Personal Care Products Council annual meeting in Palm Beach, Florida.
"In developing new products, it pays to be curious", noted Arthur Blackwood, co-developer of FrozenPeaz® hot and cold packs. Not satisfied with typical gel pack formulations that rely on petroleum-based glycols and glycerin to maintain hot or cold temperatures, the development team behind FrozenPeaz looked for a natural alternative. They found it in Zemea®, a natural, 100 percent biobased ingredient made from corn.
"We did what many others in the gel pack space failed to do and challenged the status-quo," said MaryCarol Dolivier, co-developer of FrozenPeaz®. "We are delighted to have our hot and cold pack recognized as an innovative product in the personal care market," she finished enthusiastically.
True innovation requires creative design thinking to understand how to apply new technologies and materials to create evolutionary products that meet consumer needs. The DuPont Tate & Lyle Innovation Award rewards that creativity with an engraved plaque and a contribution of $1,500 made on the winner's behalf to an approved charity of its choice.
FOR MORE INFORMATION
To purchase FrozenPeaz Hot and Cold Therapy Wraps or for more information, visit FrozenPeaz.com or Amazon.com/shops/FrozenPeaz.
ABOUT FrozenPeaz Hot & Cold Therapy
FrozenPeaz® patent pending products deliver flexible hot and cold therapy to relieve pain and assist in recovery from minor injuries or post-surgery rehabilitation. PeazPod™ therapy wraps maintain the healing temperature while maximizing comfort. The straps provide customizable compression while holding the wrap in place, enabling moderate physical activity and movement. PeazPod wraps are available in 6 different shapes to conform to various parts of the body. Just like frozen vegetables, PeazPak™ therapy packs are non-toxic. The plant-based Clear Ice™ Solution is a 100% natural alternative to petroleum and glycerin based gels. Relieve pain. Reduce swelling. Recover faster. FrozenPeaz®.
ABOUT Etavonni™ Products
FrozenPeaz® was developed by Etavonni™ Products. Etavonni (innovate spelled backwards) believes that wonderful things happen when you challenge your perspective. Leading by example. FrozenPeaz® is the product of an unfortunate trip down a long metal staircase. MaryCarol, a co-founder of Etavonni, spent weeks on the couch with more than one bag of frozen peas. She, like so many other entrepreneurs thought, "There has to be a better way". Now there is. MaryCarol Dolivier and Arthur Blackwood founded Etavonni Products in 2011. Etavonni™ Products is a resource for entrepreneurs and imagineurs that believe they can build it better but need a little help.
ABOUT DuPont Tate & Lyle
DuPont Tate & Lyle Bio Products is a joint venture between DuPont, a global science company, and Tate & Lyle, a world-leading renewable food and industrial ingredients company. DuPont Tate & Lyle
Bio Products provides natural and renewably sourced ingredients that do not compromise product performance. For more information on the company's products, visit http://www.duponttateandlyle.com.