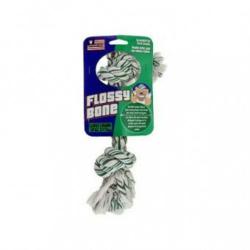 Miami, FL (PRWEB) February 07, 2013
Health is the ultimate gift for any being of this planet. To people, health means a life full of quality moments with friends, family and at work. Therefore, it is very important to strive for the health of all friends, particularly furry friends. A dog is a loyal companion, who never betrays and gives unforgettable moments every day. One of the most critical aspects in a dog's health is the integrity of its teeth. According to studies, almost 80% of pets are affected by dental diseases. The fact that most people own dogs proves the significance of this fact. "I never used to pay attention to my dog's teeth," states Jen Wilson WholePetDirect.com customer, "Now that I purchased the Flossy Bone I am now able to take care of my dog's teeth while enjoying time playing with her."
Moreover, poor dental condition, with teeth full of tartar, may cause more serious problems to other parts of the body, due to harmful bacteria. To make matters worse, dogs do not really like people messing with their teeth, thus, making dental care, a difficult task. Pet suppliers had to find a way that would enable the owner to take care of his/her dog's teeth, while providing fun to the pet. Fortunately, WholePetDirect.com succeeded and one of the best solutions is the one they provide, manufactured by Pet Sport USA.
The Flossy Bone Rope is a rope pet toy, constructed with the greatest quality standards. The material used is cotton fibers, which is a soft and durable material, suitable for the sharp dog teeth that are going to bite it. It provides valuable service, helping floss away all the unwanted plaque and tartar. In this way, a dog's teeth and gums stay strong, clean and healthy. Furthermore, the design of the product allows three separate games to be performed in one application: throwing, tugging and chewing. Another feature, which is unique to the Flossy Bone Rope, is the spearmint flavor that keeps a dog's breath pleasant and fresh. It comes in three sizes: small, medium and large. Small is suitable for dogs under 20lbs, medium is for dogs over 20lbs and large is for the big buddies that weigh more than 40lbs.
Dog's health is something all owners should take care with vigor. Since the teeth are very important to the good and stable health of the dog, the owner should pay the utmost attention to it. What better way there is than the Flossy Bone Rope to do that? Combine fun games and dental care in one amazing product. Pet owners can pass by WholePetDirect.com and discover The Flossy Bone and many other pet products.