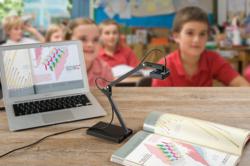 The Ziggi Document Camera is one of IPEVO's flagship products, and it was recently featured on Wishpool as a monthly gift for educators.
Sunnyvale, CA (PRWEB) February 08, 2013
Launched in December, the Wishpool initiative started by ed tech designer and maker IPEVO promises free technology products for educators willing to "make a wish" and share their stories. The response has been immediate: IPEVO reports that 500 wish stories have been received, with many of those wishes already fulfilled. The primary portal for Wishpool may be found at http://www.ipevo.com/wishpool.
According to their website, "IPEVO believes that every child deserves a technology-rich education, and that hardworking educators deserve to be empowered with IPEVO's newest and best classroom tools." K-12 educators at registered public or private schools in the United States, Canada, Japan, or the European Union are eligible to apply at no cost to the Wishpool program, regardless of subject or specialty.
Each month, one or more IPEVO ed tech products are featured on the Wishpool website, and teachers are encouraged to supply a brief story (with picture preferred) about their teaching situation and how they would use featured IPEVO technology to further teaching and learning in their classrooms. The Wishpool team decides which submitted wishes can be fulfilled. The schools of chosen educators then receive IPEVO education technology products at no cost.
"The 500 wish story mark is very significant for us," said Royce Hong, CEO and big head of design of IPEVO, "and it demonstrates the increasingly large role that technology plays in the classroom. Today's educators are extremely savvy about discovering new and better ways to teach through technology, whether it's the iPad, a document camera, or something else. At the same time, budgets are tighter than ever, so incorporating new devices becomes a balancing act. With Wishpool, we want to make it easier for deserving teachers to maximize their potential through IPEVO ed tech."
To date, IPEVO has delivered 356 Point 2 View USB Document Cameras and 325 Typi Folio Cases + Wireless Keyboards to educators in 230 schools and in 4 countries. The Wishpool program is continuing to accept free applications from qualified teachers on a rolling basis. Educators can sign up and share their wish stories at http:/http://www.ipevo.com/wishpool.