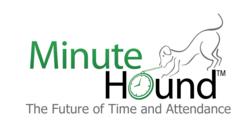 MinuteHound specializes in offering industry leading time and attendance solutions to businesses of all types and sizes
Las Vegas, NV (PRWEB) February 08, 2013
MinuteHound, America's leading provider of cloud-based time and attendance solutions, celebrates Valentine's Day with a special promotion. While Valentine's Day only comes around once a year, the MinuteHound biometric time clock with cloud-based attendance software is there everyday, saving customers approximately 8% off their payroll costs. Companies fall in love while permanently ending their relationship with payroll abuse.
In fact, the American Payroll Association estimates businesses lose over $148 billion each year due to outdated and inefficient time and attendance systems. The APA further reports that time theft by employees can reach 5 to 10 percent of a business's payroll cost.
MinuteHound specializes in providing their industry leading time and attendance solutions to businesses of all types and sizes. Whether it's a small business with one location, or a conglomerate with thousands of locations, MinuteHound technology is ready to automate their employee time tracking and payroll accounting.
The average MinuteHound customer enjoys a 2,300 percent return on their MinuteHound investment. That's right, a two-thousand-three-hundred-percent ROI. They also appreciate MinuteHound's easy-to-use technology and 24/7 customer support.
The MinuteHound time tracking and payroll accounting system consists of three simple components:
Biometric Time Clock Scanner - This unit connects to the USB port of the customer's computer. The computer does not need to be dedicated to the scanner. The unit can be connected to any computer, including a POS system. The scanner is where an employee simply swipes his or her finger to clock-in and clock-out for their shift. The scanner quickly verifies the employee's credentials and then updates in real time. The scanner is easily installed and setup, with no special training required.
Time Clock Software - The software runs in the background, leaving the computer free to handle other work. With input from the scanner, the software transmits data via the Internet to the MinuteHound Web Portal. No employee data is stored on the local computer. All data resides in MinuteHound's secure cloud-based system. This provides customers the benefit of having data safely secured offsite, eliminating potential data loss in the event of fire or flood.
Web Portal - MinuteHound hosts a sophisticated web portal for their customers. The customer, and designated employees, access timekeeping data via any internet enabled device. The portal allows customers to export data, setup automated alerts, and utilize MinuteHound's various other features.
Make every day as special as Valentines Day with MinuteHound. Enter coupon code VDAY13 to receive the discount.
MinuteHound Contact Information
Website: http://www.MinuteHound.com
Email: info(at)MinuteHound(dot)com
Phone: (800) 351-7237