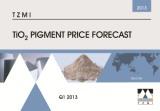 The end of the first quarter of 2013 should see some pick-up in demand for TiO2 pigment
(PRWEB) February 09, 2013
In the latest TiO2 Pigment Price Forecast, TZ Minerals International(TZMI) reports that it does not expect any significant shift in demand for global end-use markets for pigment in the next five years.
The newly released Pigment Price Forecast Q1 2013(PPF13Q1) uses a detailed analysis of the global supply/demand balance to provide a price forecast for TiO2 pigment to 2016 across all regions and across high and low quality products, plus in depth analysis of the factors influencing global pigment prices.
The end of the first quarter of 2013 should see some pick-up in demand for TiO2 pigment, following a year of de-stocking and weak demand.
Further to this, TZMI expects that reduced capacity utilisation will remain in place through 2013. Producer-held inventory levels are not expected to return to industry norms until the end of the year.
However, demand is expected to recover somewhat in North America, China and emerging economies in Asia-Pacific.
The weighted average pigment price for 2012 was estimated by TZMI to be 6% above 2011 levels. However, the weighted average price weakened approximately 13% in the second half of 2012. TZMI believes that the low point in pigment pricing will be experienced during Q1 2013, before slowly increasing on a quarterly basis starting in the second quarter of the year.
The major producers of TiO2 pigment are: E.I. du Pont de Nemours & Co; Cristal Global, Huntsman Corporation, Tronox Incorporated, Kronos Worldwide Inc, Ishihara Sangyo Kaisha Ltd and Rockwood Holdings Inc. The major producers of TiO2 feedstock are: Rio Tinto Limited, Iluka Resources Limited, Exxaro Resources Ltd, Cristal Mining Australia, Eramet SA and Kenmare Resources plc.
The TiO2 Pigment Price Forecast is the only independent forward-looking analysis of the prices for titanium dioxide (TiO2) pigment and is published quarterly.
For more information or to order a copy of the TZMI TiO2 Pigment Price Forecast Q1 2013, please visit http://www.tzmi.com
About TZMI
TZ Minerals International (TZMI) is a global, independent consulting and publishing company with offices in Australia, China, the US and South Africa. The strength of TZMI's consulting services stems from extensive practical experience in the mineral sands, titanium dioxide and coatings industries and from a comprehensive database, which has been built up over many years.
TZMI has proven expertise gained from our consultants having many years of direct operating experience in the industry in chief executive, senior operational, analytical and marketing roles.
TZMI's publications and data services support the consulting activities and ensure up-to-date, high quality and comprehensive data, analysis and information across the mineral sands, zircon and TiO2 pigment industries.
TZMI provides operational and technical expert advice on many areas including:

Mergers and Acquisitions
Market Assessments and industry analysis
Due diligence
Pre-feasibility studies incl. preliminary capital and operating cost estimation
Competitive cost analysis and benchmarking
Technical reviews and audits
Resource assessments
Physical separation test work
Flowsheet development
Customised data analysis and reporting