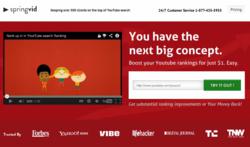 Ottawa, ON (PRWEB) February 07, 2013
Springvid.com reaches another milestone after recent redesign, serving over of 500 clients since the acquisition by Buyrealmarketing.com four months ago. This latest online player in the world of video marketing services has been picking up fast since its launching and now has satisfied a considerable number of clients with its $1 for one-month service trial.
"Give clients a taste of quality service and they'll come back for more," mentions JP Bisson, Managing Director for Buy Real Marketing and SpringVid.
Springvid.com offers clients, mostly comprised of non-profits and start-ups, the chance to boost their video ranking on video search engines particularly on YouTube. All they have to do is avail of the $1 trial for one month and they will see gradual increase in their ranking status. If they continue with the service and upgrade to a monthly subscription, their video will undergo more in-depth video optimization strategies that will bring their video ranking to the first page if not the top of the YouTube search results.
How does it work?
YouTube video owners availing of the $1 trial will be expected to choose one main keyword they want to be found for and submit it together with the video URL. The Springvid team will immediately start promoting the video to thousands of online channels such as Keeko.com, a social media exchange platform, video hosting sites, social networks with a massive fan or follower base and other partner networks tapping Buy Real Marketing's wide base of online connections.
Clients with less knowledge on keyword selection only need to mention the fact and the Springvid team will assist them in choosing the potential keyword that the video will have a high likelihood to rank high on the search. They can also check the Keyword information page where clients are guided with relevant strategies in keyword selection.
SpringVid also provides a thorough monthly report that allows clients to see the traffic and ranking status of their video. The whole video optimization process is transparent to the client to prove that the service is credible.
Springvid's team of experts will always continue in developing the service to provide effective video marketing services to their growing number of clients.
To get more information about SpringVid go to their website at springvid.com or contact them through 1-877-435-5955.
For updates on interesting news bits, updates and promos, you can also like them on Facebook and follow them on Twitter.
About
Buy Real Marketing and SpringVid are owned by Clicking Labs. Clicking Labs is a well-established internet marketing company founded in 2010 by Jean-Patrick Bisson, Diana Quartin and Jonathan Kennedy. The company specializes in driving search marketing and social media traffic, social web app development and conversion optimization. Each product or service specifically helps small/medium website owners increase online visibility and improve online sales.
###