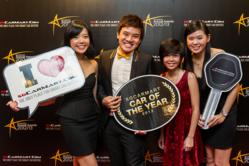 There's just nothing like knowing who won the awards at sgCarMart's Annual Awards ceremony
Singapore, Singapore (PRWEB) February 08, 2013
Singapore's highest traffic car site, sgCarMart.com, held its inaugural Annual Awards ceremony at the InterContinental Hotel Singapore on the 1st February 2013.
More than 300 distinguished guests, including senior executives from all major Singapore car distributors as well as manufacturers, turned up at the grand gala to celebrate in joy. Many recognized dealers and merchants walked away as winners as 17 aftermarket merchants were awarded the Star Merchant Award and 30 pre-owned car dealers were awarded the Premium Dealer Award.
The main highlight of the evening, the Car of the Year Award, saw a total of 30 cars bagging awards in their respective categories. Of the 30 winners, special mention went to eight different car manufacturers such as the Lexus GS for the Best Technological Feature of the Year as well as the Audi R8 GT Spyder for the Supercar of the Year. The Suzuki Swift Sport and the Volkswagen Jetta also won single categories such as the Editor's Pick and the Top Viewed Model respectively.
Special guest performances by Joanna Dong and the Summertime Hotshots also livened up the entire evening. To end the night, 10 lucky winners walked home with prizes from the grand draw that included five iPad Minis, a digital camera and a 32-inch LED television.
About SGCM Pte Ltd
sgCarMart.com is Singapore's Number 1 car site. With more than 20,000 car listings, it offers the largest database of new and used cars for sale in Singapore. sgCarMart.com attracts more than 2 million visitors every month and as a testament to its popularity, it has been awarded the Most Popular Automotive Site in its category for six years running by Hitwise. Attaining the Enterprise 50 2012, Successful Entrepreneur Award 2011, Singapore Prestige Brand Award 2010 and the Spirit of Enterprise 2008 serve as recognition to sgCarMart.com's reputation as a well established Singapore brand.
CarMall boiler
CarMall.com is Indonesia's fastest growing Indonesia car portal with double digit traffic growth rates every month and more than 30,000 Facebook fans. With a comprehensive new car & automotive directory, motoring news content and a dual-language navigation system, CarMall.com aspires to be Indonesia's number 1 car site. CarMall.com is wholly owned and managed by sgCarMart, Singapore's award winning car portal that has been ranked number 1 for 7 years running.