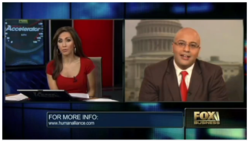 Washington, DC (PRWEB) February 07, 2013
Human Alliance Principal Appears on Fox News LIVE to Discuss Performance Management
Human Alliance Ltd. Managing Principal, Joe Shaheen appeared on a Fox News LIVE segment hosted by Fox Business Network's Lauren Simonetti to discuss performance management systems and especially systems that rely on peer reviews to measure employee performance.
The segment was streamed live online on the Fox News site and ran for an estimated 8 minutes.
"It was a great experience sharing our experiences with Fox News and Lauren Simonetti, and we hope we provided some valuable information to the FNC viewership," comments Shaheen.
The segment focused on the Pros and Cons of Peer Reviews, and aimed to discuss when these types of evaluation systems worked and did not work.
You can view the full segment on the Human Alliance's Site located at http://humanalliance.com/videos
Peer reviews systems, led by the 360-performance review process have been in use for a number of years by many firms, including 90% of Fortune 500s. Although useful to help identify areas where employees can improve and develop, many challenges are faced by HR and executive managers to implement them correctly, and convince employees of their value.
During the interview, Shaheen discussed how any peer review process must be grounded in "common sense", and that it had to take into consideration the relative strength and weaknesses of organizational culture and employees' willingness to accept feedback from their co-workers.
"We run into this issue all the time—employees who feel that the company culture does not support their ability to give feedback, and also feel that any feedback they receive could be biased and untrustworthy. Companies that want to engage their employees and benefit from potential productivity improvements, have to build a culture that is open to feedback first," explains Shaheen, one of Washington, DC's thought leaders on organizational issues.
Shaheen adds that there are many flaws in using peer review systems, including the lack of empirical evidence that they actually measure performance. He contends that tools such as the 360 are great for measuring perceptions, and that if tied to personal development rather than performance evaluations (such as salaries increases or bonuses) that they can become much more effective tools.
"At the end of the day, the relationship between a manager and her employees should be understood to be a sacred relationship."
The Human Alliance Ltd is one of Washington, DC's top Management Consultants specializing in human resources, human capital, and social media challenges facing today's businesses.
Survey
The Human Alliance is currently conducting a survey to gauge the progress of the HR industry. If you are interested in participating, please click the link below. Participants will be entered into a drawing and awarded a gift.
The online survey is located at http://humanalliance.com/state-of-hr-survey-2013/
Human Alliance Ltd.
The Human Alliance Ltd. is a world-class management consulting firm that focuses on issues of talent facing today's global workforce. The company fields an array of innovative services, such as Human Domain Mapping™, Talent Sphere Mapping™, Quantum Org™, On Demand reporting services, and traditional talent services such as talent management, and talent acquisition consulting. The company is based in the heart of Washington, DC.