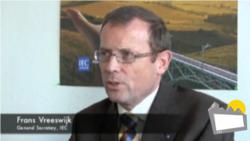 Energy consumption will double between now and 2030...IEC work brings the most relevant solutions to the table, in a form that can be implemented immediately
GENEVA, Switzerland (PRWEB UK) 11 February 2013
Energy consumption will double between now and 2030; demand for electricity will triple by 2050. To reduce emissions and produce enough energy for developed and developing nations in the future, the IEC believes that the whole energy chain will need to be reworked. The need for EES (Electrical Energy Storage) will increase significantly over the coming years. With the growing penetration of wind and solar, Smart Grids will help add intelligence to existing grids and facilitate the integration of small scale energy generation into them.
Cooperation at all levels
The December 2012 COP18 Doha climate change conference focused on talks and did not address the most pressing issues linked to the global energy challenge. Despite this stalemate, global, regional and local cooperation initiatives are being developed and implemented. They address key issues such as electrical energy efficiency and energy storage from a variety of different angles and perspectives.
IEC at the forefront
RTCC (Responding to Climate Change) TV spoke to IEC General Secretary and CEO Frans Vreeswijk about the need for change within the electrical industry and for cooperation as a means of moving forward, as well as the increasing importance of storage in achieving a broader roll-out of energy-efficient technologies.
For several years, the IEC has been a trusted partner of industry, governments and international organizations, supporting them in their efforts to meet these challenges. By providing consistent measurement and rating methodologies, including efficiency, IEC work brings the most relevant solutions to the table, in a form that can be implemented immediately. Examples include:

The IEC is one of many organizations and agencies participating in the UN (United Nations) Sustainable Energy for All initiative. In bringing the IEC into its network, the UN recognizes that IEC International Standards play a major role in meeting this challenge.
IEC 62087 is the International Standard for measuring the energy efficiency of the latest generation of television sets, video recording equipment, set top boxes, audio equipment and multifunction equipment for consumer use. The complete package enables power consumption to be measured and offers manufacturers a means of providing accurate energy label ratings for consumers. Many other IEC International Standards are available for measuring the performance and energy efficiency of a wide range of household goods such as dishwashers, washing machines, refrigerators, and so on.
Standby power consumption is an important energy-efficiency issue and for a number of years the IEC has been preparing International Standards to measure it efficiently. The IEC also included the reduction of standby power in its list of recommendations in the September 2010 white paper, "Coping with the Energy Challenge".
"Coping with the Energy Challenge" was the first in a series of white papers published by the IEC. It was followed by "Electrical Energy Storage" in 2011 and "Grid integration of large-capacity Renewable Energy sources and use of large-capacity Electrical Energy Storage" in 2012. All have been hailed as major contributions to the integration of energy efficient technologies into the grid and have received a high level of attention from governments, regulators and industries.
IEC work allows the roll-out of the most efficient technologies on a global level. IEC International Standards are the basis for conformity assessment; they also promote international trade and support transfer of expertise across countries and industries. The IEC also recently created IEC TC (Technical committee) 120: EES (Electrical Energy Storage) Systems, whose aim is to accelerate the integration of renewable energy into the grid and to enable a more reliable and efficient supply of electrical energy.
About RTCC
RTCC (Responding to Climate Change) is a Non-Governmental Organization and an official observer to the United Nations climate change negotiations dedicated to raising awareness about climate change issues: http://www.rtcc.org/
More information
Watch the RTCC interview: https://www.youtube.com/user/theiec
Visit http://www.iec.ch/renewables/ to better understand what the IEC is doing on renewable energies.
Read our editorial on p.54 of the RTCC magazine: http://bit.ly/XrcSfB
Find out more about IEC TC 120 EES (Electrical Energy Storage) http://bit.ly/WT9gFa and http://bit.ly/Yf0C0B
UN (United Nations) Sustainable Energy for All initiative: http://www.sustainableenergyforall.org/