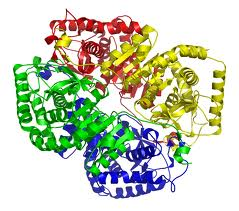 Dehydrogenase & Electrophoresis Bibliography
Bad Honnef, Germany (PRWEB) February 08, 2013
The aim of the Natural Sciences Bibliographic Web Portal including its new Dehydrogenase and Electrophoresis Bibliography is to provide comprehensive scholarly information on the basic and applied life, earth and health sciences. While the publishers target to publish a total of over 21 million references until 2014, the site currently publishes about 5,000 new items every day. The basic information consists of basic bibliographic information while expanded references provide an additional summary of the publication's scientific content. Every bibliographic reference is tagged with up to twenty scientific keywords.
The Enzyme Section contains scientific information on enzymes, which are biological molecules that living organisms produce in order to catalyze (which, in this case, to increase the speed or rates of) specific biochemical reactions. The substrates, which are what molecules are called at the beginning of the enzymatic reaction, are converted into different molecules, known as products. Almost every chemical reaction that occurs in a biological cell requires enzymes for performing at a rate that is sufficient for sustaining life. The latest content in this category is also available through an Enzyme RSS feed. The section currently contains over 24,400 posts and is subdivided into the ten categories Dehydrogenase, Electrophoresis, Escherichia, Immunosorbent, Kinase, Oxidase, Peptide, Peroxidase, Polymerase, and Reductase.
Within this section, the new category Dehydrogenase provides scientific information on Dehydrogenase which is an enzyme that catalyzes the removal and eventual transfer of hydrogen molecules from a substrate in an oxidation and reduction reaction. This substance which is also known as "DHO" oxidizes the substrate through a distinct reduction reaction that will transfer one or more hydrides of the substrate to an electron receptor, typically nicotinamide adenine dinucleotide (NAD+) or nicotinamide adenine dinucleotide phosphate (NADP+). The category contains over 2,280 newly published posts of which the very latest inclusions are also available through a Dehydrogenase RSS feed. It features posts on kinetic characteristics of glucose-6-phosphate dehydrogenase in maize lines and hybrids, isoenzyme spectra and malate dehydrogenase activity in leaves and nodules of soyabean plants treated with trace elements, and on inhibition of malate dehydrogenase enzymes by benzimidazole anthelmintics.
The new category Electrophoresis contains scientific information on this process which is used in biochemistry to determine and evaluate proteins or enzymes within a specific sample. In the field of biochemistry, there are two types of electrophoresis, firstly the nucleic acid electrophoresis and secondly the electrophoresis of proteins. While nucleic acid electrophoresis is an analytical technique that allows a scientist or researcher to separate DNA or RNA fragments according to their size and reactivity, protein electrophoresis uses a fluid or an extract in order to analyze the proteins contained within. This category contains over 1,250 newly published posts of which the very latest inclusions are also available through an Electrophoresis RSS feed. It features posts on kinetic properties of NADP+-malic enzyme in two populations of the C4 weed species Echinochloa crusgalli (L.) (Poaceae) from sites of contrasting climates, isolation of the cellulase enzymes from the thermophilic fungus Thermoascus aurantiacus and regulation of enzyme production, on isoenzyme analysis of Leishmanian strains by electrophoresis on acetate-cellulose plates, and on enzyme variability in wild wheat populations.
While the publishers of the web portal have a stock of 21,238,124 references of which 10,564,269 (50%) contain a summary, this information will be made successively available to the public until 2014. While the site has presently published a total of 1,434,000 posts online, the number of published bibliographic resources increases by 5,000 items every day. All items are interconnected with over 316,000 tags. The publishing status is reflected in the site's continuously updated tagline.