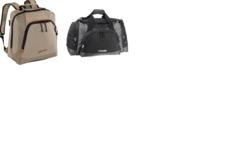 Customers can order the items directly online at www.luggagesuperstore.co.uk or ring the Sales Team on 01474 854666
Kent (PRWEB UK) 12 February 2013
The Antler Compass Point range is a sturdy high quality range just launched on the online luggage store. The items manufactured in the range are Upright suitcases, Mega Decker bags (combination of a suitcase and a duffle), Messenger Bags, Backpacks and Totes. Luggage Superstore will be adding on more of the products to this range as they become more available from Antler. This range brings a nice variety of style of bags and cases that will suit almost any type of holiday, starting from maybe a weekend holiday using the cabin size case, to everyday travelling using the backpack or right up to longer holidays that may be more for the sporty person using the Mega Decker or any other holiday using the Upright cases.
The Compass Point range has been placed on a massive discount as an introductory offer to Luggage Superstore's customers. Customers can use this offer as an opportunity to grab one of these items for the upcoming holiday or just purchase it and keep it for the next time the holiday comes around, that way there isn't a chance of not having your suitcase already put aside. Luggage Superstore's team is always scouting around for great deals that could bring genuine savings to customers. In the modern climate of a struggling economy, the team understands that where ever possible to cut the cost but never the quality of products offered to their customers.
Customers can order the items directly online at the link below or ring the Sales Team on 01474 854666
Luggage Superstore's established site is in West Kingsdown, Kent. Their aim is providing competitive prices of the highest quality luggage and top calibre Customer Service for online luggage shopping. Luggage Superstore recommends Antler Luggage.
Trina Chee-a-kwai
Luggage Superstore
01474854666
Email Information