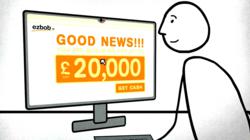 EZBOB funding is now available 24/7; which includes after business hours, weekends, and holidays
London, England (PRWEB UK) 8 February 2013
EZBOB's interest only business loan scheme is the first of its kind in the UK. More than 1,000 new applicants requested funding within the first two weeks of the scheme's launch which exceeded management's expectations. Due to the high demand, management has decided to extend the interest only loan offer so that more business owners can enjoy the flexible financing and repayment terms.
EZBOB's interest only loan is a more beneficial loan product when compared to a typical loan with equal monthly repayments. Under the interest only scheme, the customer is in control of his repayment schedule. While enjoying a low monthly repayment schedule a borrower still has the option to make early repayments of any amount, at any time and thereby reduce interest costs.
"We were overwhelmed by the acceptance of the interest only loan offer in the market. This is proof that e-tailers are financially savvy borrowers and that they recognize the value of the scheme instantly. Many of our clients have re-iterated that their business not only needs working capital loans but that they also need flexibility on the repayment terms. Our scheme allows for low monthly re- payments" stated Tomer Guriel, CEO and CoFounder of EZBOB.
EZBOB is set to launch a national advertising campaign emphasizing EZBOB's business finance and the fact that funding is now available 24/7; which includes after business hours, weekends, and holidays. "I was surprised to learn that customers were not aware that they can receive monies to their bank accounts from us during off hours. Unlike banks, our fully automated financing solution provides funding any time – any day" concluded Guriel.
About EZBOB
EZBOB currently offers instant financing for E-tailers in the UK. EZBOB proprietary system is dedicated to financing Small Business, at the click of a button. EZBOB qualifying customers make up a considerable part of the UK e-commerce market which had total sales of £68.2bn in 2011. To apply for a ebay seller loan and an amazon seller loan, customers simply have to visit EZBOB and apply (it takes under ten minutes). When qualified, funds are automatically transferred to the clients account in thirty minutes or less. EZBOB is presenting at FinovateEurope in London on February 13 at 11am. Finovate is a showcase of cutting-edge financial and banking technology innovations and EZBOB's invitation to demo shows industry confidence.