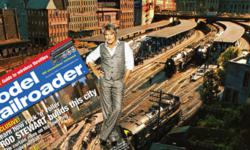 (PRWEB) February 09, 2013
The Dull Men's Club has announced its list of 2012's Dull Men of the Year.

Rod Stewart: "I'm proud to be a railway modeler. It means more to me to be on the cover of Model Railroader than to be on the cover of a music magazine." His railroad occupies 1,500 square feet of his Beverly Hills mansion. [Click here for source]
Iggy: "I've got a lust for slippers." His other passions are pottering around the garden at his home in Miami, smelling the fowers and listening to the waterfall, and watching clouds. [Click here for source]
Peter Willis, retired postman living in Worcestershire England, who set out after he retired in 2007 to photograph all of Britain's 115,000 post boxes. He's photographed 2,500 so far. [Click here for source]
Ken Myers, Leeds England, who has given the same Valentine's Day Card to his wife for 34 years. [Click here for source]
Dr. Alan McEllingott, University of London, who conducted research that proves goats have accents. [Click here for source]
Simon Beck, Oxford England, who snowshoes across fields of snow five to nine hours a day to create "Snow Art" (cousins of crop circles).
Peter Skyllbert, Sweden, who survived two months in his car that was buried under an avalanche.
Why announced now? It's because, unlike other lists for 2012 such as Time's Person of the Year and the Queen's Honours List announced in December, the Dull Men's Club waits until the year is over. Moreover, it's duller now than December when there's so much excitement from the holidays.
2013 — Nomination are now open for 2013's Dull Men of the Year — they can be emailed to us at [email protected]