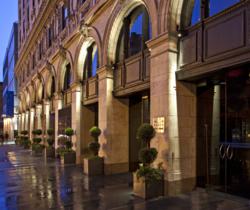 We've attended Fashion Week the past 3 years and stayed at The Paramount Hotel and it's the best location and close to everything.
New York, NY (PRWEB) February 07, 2013
Thousands of Fashion Industry professionals, designers, consumers and more flock to NYC to take in all that is and will be fashionable this year and next - if some designers are lucky.
Attendees to the New York Fashion Week, or any of the New York events taking place in February and March have many NYC Hotels choose from and for location and shear style, The Paramount Hotel is always a top choice.
Visit the Paramount Hotel Website
The Paramount, located in the center of Times Square has arranged an great offer - details include:
Book the Winter Wonder Sale and save with daily rates starting at $109, - a savings of up to 40% off the best available rates for all days in February and March 2013. It's the perfect time to book your stay for the New York Fashion Week or one of the many other New York Events taking place in NYC through March 2013. View details > Book Now >
New York Fashion Week
February 7-14, 2013
Lincoln Center | 10 Lincoln Center Plaza, New York, NY 10023 | (212) 875-5456
This major branded fashion show is a favorite of all the Events in New York during February, with another exciting show taking place in September. The winter show features the newest fall fashion lines. This year, New York Fashion Week will take place in Damrosch Park, at the Lincoln Center complex, a move from its previous home in Bryant Park to a newer and bigger NYC Venue that will more suitably house the bi-annual New York Event.
Attendees of New York Fashion Week 2013 will walk a red carpet at the 60-foot-wide, 70-foot-high entrance behind the Metropolitan Opera House and David H. Koch Theater, into the lobby of a the 969-seat NYC Venue. This NYC Event's daily happenings will be digitally projected on the walls, and the catwalks at New York Fashion Week 2013 will showcase the most anticipated fashions of the season.
IMG remains the driving force behind New York Fashion Week 2013, along with major sponsors Mercedes Benz and Olympus. As one of the world's most celebrated Fashion Events, and one of the most-attended New York Events, more than 100,000 attendees come to check out the glitz and glam at New York Fashion Week twice each year.
Digital technologies and social media are drawing more attention to the global Fashion Weeks that start in New York, then proceed to London, Milan, and finish in Paris. But modern media and computers are a trend that is pervasive in today's Fashion Week, with live-stream shows and mobile apps that make it possible for consumers to watch Runway Events in New York from their computers and laptops.
New York Fashion Week was once one of the many "invitation-only" New York Events where magazine editors and store buyers sought out the next season's styles. The first every New York Fashion Week was actually called Press Week, and occurred in 1943 as a distraction from Paris Fashion Week, which could not be attended by many in the industry due to the World War.
About Paramount Hotel – A New York Hotel
The Paramount Hotel is unrivaled for combining style, comfort, and affordability in the most popular part of New York City. Having been part of the New York scene since the late 1920s, Paramount Hotel sits in the middle of Times Square, close to all things Manhattan – from the Broadway Theater District, Empire State Building, and neighborhoods of Greenwich Village and SoHo to Central Park, Rockefeller Center, and Madison Avenue.
Visit the Paramount Hotel Website
View Paramount's New York Visitor's Guide
Check Rates or Make Reservations or call: call toll free: 877.692.0803
Take a Photo Tour of The Paramount