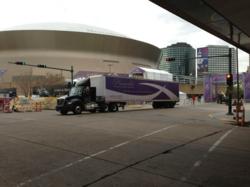 Los Angeles, CA (PRWEB) February 07, 2013
Amidst the cluster of parties and celebrations happening in the Big Easy for Super Bowl XLVII, there were a series of events with one thing in common...Classic Party Rentals. The leading event rental company in the United States today announced its role in providing tents, tables, chairs, lighting, tabletop, glassware, serving pieces, flooring and Designer8* lounge furniture during Sunday's Super Bowl.
"We're honored and excited to continue Classic Party Rentals' tradition of service to Super Bowl events. This was our 14th Super Bowl, and we appreciated our event planning partners bringing us in to help create some of the best events," said Classic Party Rentals CEO, Jeff Black. Classic Party Rentals supported a number of events, providing equipment from several of their 30 national locations, moving over 50 tractor trailers of equipment to various sites in and around the Mercedes-Benz Superdome. "We transformed spaces and places into wonderful parties attended and enjoyed by thousands of people", Black added.
The Super Bowl events took place from January 31st to February 3rd at venues located in New Orleans including the Tad Gormley Stadium, City Park, and private residences in the Garden District to name just a few. Classic leased temporary warehouse space so they could provide seamless service and last minute requests to their customers.
As the nation's leading full service event rental company, Classic has played a role in each Super Bowl since 1999. It is impressive the Company can put down 100,000 square feet of flooring and 75,000 square feet of tenting in New Orleans and simultaneously be the company of choice to support a number of relatively smaller events in private residences around the country especially in the San Francisco Bay area and the Capital Beltway. Valerie Hopple, sales manager for Classic Party Rentals in San Francisco, created and rented a 49ers-themed table setting for many such events this past weekend. Last weekend was a true demonstration of the capabilities of Classic Party Rentals across the spectrum of events.
About Classic Party Rentals
Classic Party Rentals is the nation's leading full service event rental company. Classic operates 30 locations including Los Angeles, San Francisco, New York, Chicago, Pompano Beach, Atlanta and Dallas. Its high-profile event roster includes over 180,000 major sporting events, brand promotion tours, Hollywood awards shows, movie premieres, celebrity weddings, charity events and private social events annually. Classic offers a broad inventory of china, glassware, flatware, linens, designer furniture, tables, chairs, and kitchen equipment, and is also a leading nationwide provider of tents, clear span structures, power, heating, air conditioning and sub-flooring. For more information, please visit http://www.ClassicPartyRentals.com. "Choose Wisely Choose Classic. Feel Secure…No Event too Big or too Small."