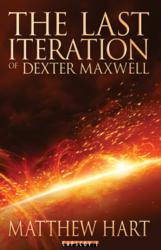 "Matthew Hart has expertly interwoven believable technological advances into this
spellbinding Sci-Fi adventure story" - Daniel L. Calloway, MSIT & expert network consultant to the Internet of Things (IoT) Council in Brussels, Belgium
Kansas City, MO - Glonn, Germany (PRWEB) February 11, 2013
Released in Dec 2012, THE LAST ITERATION OF DEXTER MAXWELL is the first novel by visionary technologist and author Matthew Hart. His rag-tag hackers clash with forces hidden in the shadows cast by the interconnected society of 22nd Century Colorado. But the hackers soon find themselves undermined by the same nested networks they themselves have been exploiting for their disruptive stunts.
THE LAST ITERATION OF DEXTER MAXWELL is the starting shot of a compelling series that explores different technologies and how they evolve and influence one another at the intersection of science and faith. There are implicit thematic elements of sustainability and balance, and a strong look at the consequences of our increasing dependency on information technology.
This fast-paced adventure is bound to find a broad audience quickly by exciting sci-fi adventure fans and technology enthusiasts alike with its multi-faceted themes and powerful writing style.
Book description:
Dex knows first-hand how tough it is living on the edge of a thoroughly technologized civilization in Grenver, Colorado. But it also has its perks. With his small league of street-smart outcasts, he's snarled the system with some of the most brazen stunts of the 22nd century. Not bad for an orphaned sewer rat that can't remember his childhood and will most likely end up iced for ages like any other criminal.
No past, no future: no problem. As long as Dex has his friends and his mischief, he'll be alright. But after a botched stunt, Dex wakes up a foreigner in a brutal, bizarre underground city controlled by more than one shameless force—blind, a sword strapped to his back, and an old man telling him he's the vital component of the coming revolution. Dex can barely take in the reality of a new time before he's on the run, hunted by vicious assassins, and mixed up in a deadly plot a millennium in the making—and with the fate of two worlds at stake.
THE LAST ITERATION OF DEXTER MAXWELL is available as printed edition (ISBN 978-3-942358-30-9, perfect paperback) and ebook for all major reading devices and platforms.
About the author:
Matthew Hart is the author of six technology books and has been working in the middle of different corporations for 15 years. He grew up in Idaho, spent a formative decade in Colorado, and currently lives in Kansas City with his family. The author makes no secret about the fact that the decade he spent in Colorado has influenced the story. Matthew is supporting dedicated non-profit organizations and social engagements through the sale of this book, one is Académie Lafayette, Kansas City, Missouri.
About Capscovil:
Capscovil is the first company of its kind to pursue three goals at once:

Offering entertaining reading (fiction in print and ebooks)
Accelerating trends and arousing interest in technological topics
Fostering social commitment
Capscovil - founded in December 2009 - is based in Glonn near Munich, Germany. Capscovil's authors pack exciting trends and technological topics into books that make entertaining reading. Dynamic market research into fascinating new products and developments is a top priority at Capscovil. The search is precisely tailored to the author's story. Capscovil and their authors support charitable engagement and activities: Either by donating profits from book sales or by personally getting involved in specific projects.