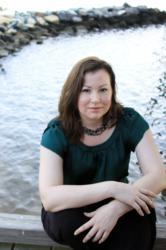 It's an honor to have been selected to serve on the board with such a high caliber group of people.
Cambridge, MD (PRWEB) February 07, 2013
Cambridge EnviroTech is proud that Senior Brand Manager Angela Visintainer has been selected to serve on the Biomass Thermal Energy Council's (BTEC) Board of Directors during 2013.
BTEC is a non-profit industry association dedicated to advancing the use of biomass for heat and other thermal energy applications. As a member of the Board, Angela will help shape the association's strategic direction in the areas of advocacy and governmental affairs; education and outreach; and research and data analysis.
"I'm excited to bring my marketing experience to the BTEC board," says Visintainer. "Biomass thermal energy has a great story, and I look forward to helping BTEC tell that story and achieve its objectives to support the industry."
BTEC has had successful initiatives in the legislative and regulatory aspects of supporting the use of biomass energy. The organization has also made several accomplishments in education and outreach including hosting Congressional briefings on the subject and participating in a keynote panel at the 2010 International Biomass Conference and Expo.
Visintainer will collaborate with other BTEC board members who have a wide range of backgrounds and specialties including engineering, forestry, and equipment manufacturing. For a full list of the Board of Directors, or to learn more about BTEC, visit http://www.biomassthermal.org.
"It's an honor to have been selected to serve on the board with such a high caliber group of people," Visintainer says.
The Cambridge EnviroTech team would like to congratulate Angela and wish her luck in this endeavor throughout 2013.
# # #
Cambridge EnviroTech is an innovative new division of Cambridge International, a century old and world leading U.S.-based engineering and manufacturing company specializing in material conveyance and filtration systems. Our multidisciplinary industrial design and engineering team have developed a revolutionary new form of electrostatic precipitator, as well as new technologies for the solar cell market and an architectural passive solar shading system. For more information on Cambridge Environmental Technologies go to http://www.cambridgeenvirotech.com.