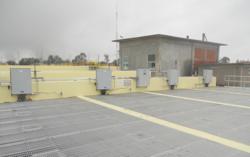 Fort Lauderdale, FL (PRWEB) February 07, 2013
Parkson's DynaSand® EcoWash™ sand filtration system is delivering significant savings for a key industrial partner in Mexico, thanks to an energy-efficient design that cuts reject water by as much as 90%.
The installation at an energy producer in Tula, Mexico consists of 80 DynaSand® modules, making it the largest of its kind in Latin America and one of the biggest in the world.
The EcoWash™ design was chosen for the project, in part, because of the system's ability to deliver a high-quality filtrate and do so on a consistent basis. After upgrading to the DynaSand®, the facility has improved the quality of its process water to contain 2 to 4 ppm of total suspended solids, compared to 10 ppm before the filtration system was installed.
Parkson partner Quimica Apollo completed installation at the facility, where the sand filtration system is being used to treat municipal wastewater for use in the plant's cooling towers. The addition of the DynaSand® system helps to extend the life cycle of the cooling water, which translates into additional energy savings and less wear and tear on equipment.
The new DynaSand® EcoWash™ represents a crucial step forward in the evolution of Parkson's popular sand filter, which was originally designed to operate on a continuous backwash schedule. The new EcoWash™ design triggers the backwash cycle on an intermittent schedule to minimize reject flow and energy use, by as much as 90% in real-world applications.
The upgrades at the Mexico plant also included installation of Parkson's HiOx® UltraFlex aeration system, which uses ultrafine bubble technology to provide treatment with lower energy demands than traditional systems.
The installation represented a valuable test of the HiOx® system's ability to operate effectively with a deep aeration basin to maximum efficiency. While the new installation was configured with a deep basin to treat half of the plant's total stream, the other half of the stream was being treated by a traditional shallow basin with similar UltraFlex panels.
The end result is that 304 HiOx® UltraFlex panels were required to treat the shallow basins, while the new installation required only 176 panels to treat a similar flow and achieve the same high standards for water quality.
"This HiOx® UltraFlex installation showed the technology's ability to reduce not only capital investment but energy consumption as well," said Vipin Lillaney, HiOx® UltraFlex Product Manager. "By implementing an optimal basin design, we proved that ultrafine bubbles have enormous treatment potential that is often under-utilized in traditional basin configurations."
About Parkson Corporation:
With 25,000 installations in its 50 years of existence, Parkson Corporation is a leading provider of advanced solutions in water recycling and treatment and is committed to providing clean water for the world.