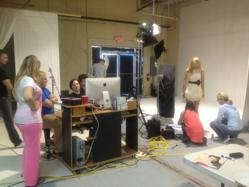 Long gone are the times when all the bridesmaids had to wear identical dresses.
(PRWEB) February 12, 2013
Pretty Maids announced that its new blog is now live. The leading bridal designer launched its revamped Internet blog sites on Friday, February 1. Regular updates and new material will be added to prettybridesmaids.com/blog for brides, bridal parties, retailers, and fashionistas.
The redesigned Pretty Maids blog site will serve as an observational and informational resource, with access to company press releases, trend predictions, industry news, top-selling styles, questions and answers, and how-to articles. Images of Pretty Maids bridesmaid dresses, local authorized retailer news, community and relief efforts, and behind-the-scenes sneak peeks into photo shoots and more are now available for bloggers.
Pretty Maids also recently announced enhanced online options for viewing bridesmaid dresses, providing users with more custom and interactive functionality. The company's rollout of its new blog ties into ongoing efforts to reach its consumers directly through social media platforms. To browse breathtaking Pretty Maids bridesmaid dresses, visit prettybridesmaids.com.