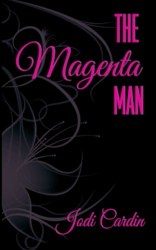 Nearly two decades after graduation, fate brings Katie together with her high school crush.
Rochester Hills, MI (PRWEB) February 12, 2013
Katie Duncan sometimes acts impulsively – such as agreeing to marry her boyfriend, Glen, after dating only three months. Although Katie, the star of this new novel, has been happily married for 15 years and has three children, she struggles with the more intimate side of her relationship. Nearly two decades after graduation, fate brings Katie together with her high school crush, the handsome Mark Sabatino, as they begin planning their 20th reunion. She can't resist the attraction she feels, but as they begin to feed their desires, relationships become strained and they risk losing it all.
"The Magenta Man" follows the twists and turns of Katie's deepening involvement with Mark. She compares him to the Magenta Man, an ideal lover Katie's friends dreamed up and discuss over their shared lunch hour. After impulsively spending the night with Mark at her hotel, Katie can for the first time relate to their stories about wild sexual encounters. As Katie begins to explore her sexuality with a more-than-willing partner, she looks forward to each month's meeting with secret delight. At the reunion, Katie and Mark take some chances with near-disastrous results. Although she loves their sensual encounters, Katie still loves Glen and feels burdened by the guilt of her affair. Which lover is her Magenta Man? Ultimately, Katie makes a decision that will change her life forever.
This is the first novel for author Jodi Cardin, who wrote the children's book Bernice's Bad Hair Days and whose story "Words to Live By" was a runner-up for the Chicken Soup of the Soul: Children with Special Needs edition, published in 2007. Cardin earned an associate's degree from Oakland Community College and lives with her husband, son and daughter. E-mail her at jodicardin(at)gmail(dot)com.
For additional information, please visit http://www.themagentaman.com.
The Magenta Man
Jodi Cardin
Dog Ear Publishing
ISBN: 978-1-4575-1512-5
248 pages
$13.95US
Available at Ingram, Amazon.com, Barnes & Noble and fine bookstores everywhere.
About Dog Ear Publishing, LLC
Dog Ear Publishing offers completely customized self-publishing services for independent authors. We provide cost-effective, fast, and highly profitable services to publish and distribute independently published books. Our book publishing and distribution services reach worldwide. Dog Ear authors retain all rights and complete creative control throughout the entire self-publishing process. Self-publishing services are available globally at http://www.dogearpublishing.net and from our offices in Indianapolis.
Dog Ear Publishing – self-publishing that actually makes sense.