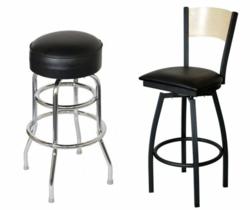 At Affordable Seating we understand that making one aspect of a restaurant better increases customer satisfaction in all the other aspects of the entire dining experience,
(PRWEB) February 08, 2013
Restaurant furniture manufacturer and distributor Affordable Seating has recognized the rise in customer demand for high-quality quick-serve dining and fast casual restaurants.
Once reserved for teenagers, bachelors and truck drivers, fast and casual dining has moved clearly into the mainstream, with families and young professionals seeking dining alternatives that will save them both money and time.
Affordable Seating, therefore, has used its expertise, and extensive market research, to highlight certain seating items that can help graduate the traditional Formica and plastic fast casual restaurant into an elegant dining experience that still retains its attractive price and convenience.
Whereas quick serve and fast casual dining establishments have traditionally offered a standardized and sterile look, Affordable Seating has found that a sure-fire way to boost a restaurant's image in the eyes of patrons is to employ customized furniture.
Restaurant chairs, booths and bar stools are the most visible elements of a restaurant's seating design and therefore this is where Affordable Seating has put its focus. Affordable Seating features a variety of wood chairs, offering some of its more ornate designs at sale prices.
The Window Back Wood Chair, the Leonardo Wood Chair and the Lattice Back Wood Chair are all on sale for $58, and are all chairs that are designed to catch the customer's eye and announce an establishment as one of quality.
Affordable Seating Marketing Director Jeff Walden explains that "making the environment in which your customers dine more elegant has been proven to increase customer satisfaction, no matter how simple or affordable the food being served is. It's a great way to get a leg up on the competition. Even if two restaurants feature very similar food, customers are much more likely to highly-rate the establishment with the more up-scale lighting, design and seating. So investing in better-designed furniture is a great example of a low-cost way to enhance a restaurant's reputation."
Booth seating is an example of a seating embellishment which can help enhance the restaurant's ambience in the eyes of the patron. Affordable Seating's Standard Single/Double Quick Ship Booth is on sale beginning at $175 in standard vinyl upholstery options. For those who wish to make an even more lasting impression, Affordable Seating offers a number of customizable booths in varying back styles, shapes, sizes and upholstery options.
For those who wish to enhance a restaurant's design with an eye toward impressing a younger crowd, Affordable Seating has a number of bar stools on sale, which when paired with a high top table, create a unique dining environment. The Ladder Back Swivel Bar Stool is on sale for $55.50, the Ladder Back Wood Bar stool is on sale for $70 and the Swivel Bar Stool with Bucket Seat is on sale for $46, just to name a few.
In addition to offering reduced prices on items it believes to be on the cutting edge of restaurant seating, Affordable Seating's customer service staff is available to advise restaurant owners on the most fitting seating options for a given establishment. "At Affordable Seating we understand that making one aspect of a restaurant better increases customer satisfaction in all the other aspects of the entire dining experience," Walden explained.