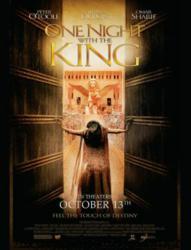 (PRWEB) February 07, 2013
It is a powerful story of courage, romance, mystery, and intrigue. It is a tale of covenant love and divine redemption at work in the midst of deceit and treachery. It is the modern big-screen classic motion picture "One Night With the King," coming to Christian television's Trinity Broadcasting Network Sunday, February 10, at 7 p.m. Pacific Time (9 p.m. Central, 10 p.m. Eastern).
Drawn from the best-selling novel "Hadassah: One Night With The King" by Tommy Tenney and Mark Andrew Olsen, and based on the Old Testament story of Esther, this dramatic film chronicles a young woman's rise from peasant to princess, her courageous role in the redemption of her people from destruction and death, and her winning of the love of the most powerful man in the kingdom — by seeking his heart rather than the riches of his kingdom.
Starring Tifanny Dupont in the role of Hadassah, "One Night With The King" also features two of Hollywood's most legendary living icons, Peter O'Toole and Omar Sharif, along with the renowned John Rhys-Davies ("Lord of the Rings" trilogy), Luke Goss ("Blade II," "ZigZag"), John Noble ("Lord of the Rings: Return of the King"), Tommy Lister ("Next Friday"), James Callis ("Bridget Jones Diary," "Battlestar Galactica"), and Jonah Lotan ("24," "The Jacket").
The 2006 independent film, which earned nearly $14 million in worldwide theatrical release, was produced by TBN's own Matthew and Laurie Crouch under the production company they founded, Gener8Xion Entertainment. Mr. Crouch, who serves as TBN's Vice President, said the movie's theme of divine destiny has made it a popular film throughout the Christian community. "Hadassah was a poor, unknown peasant girl, an orphan, an outcast from a distant land, who went on to become queen of a powerful empire," he explained. "Her poignant story proves that anyone, no matter their circumstances, can rise to greatness when guided by God's hand."
As a veteran moviemaker, Mr. Crouch has produced a number of popular inspirational motion pictures, including "China Cry," "The Omega Code," "Carman: The Champion," and "Megiddo."
"As the undisputed broadcast leader in faith and family programming, TBN has partnered in bringing many of these faith and family-friendly classics to TV," he said. "And we're pleased to add 'One Night With the King,' with its cinematic grandeur and epic story, to that list."
To find out more about "One Night With the King," visit the movie's Official Website.