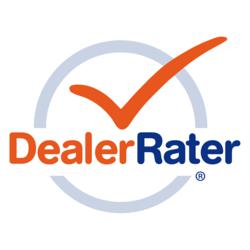 We congratulate DealerRater on winning a 'Top Rated' Reputation Management Award and for being recognized by its dealer customers for high levels of excellence and customer satisfaction.
Waltham, Mass. (PRWEB) February 08, 2013
DealerRater is the recipient of a "Top Rated" Reputation Management Award in the fourth annual DrivingSales Dealer Satisfaction Awards, presented at a special event today in conjunction with the 2013 National Automobile Dealers Association (NADA) Convention & Expo.
"I'm extremely grateful to our dealer clients, consumer users, partners and employees for the tremendous success we continue to experience," said Chip Grueter, DealerRater president. "DealerRater enables dealers to demonstrate online their exceptional customer service and build a strong brand both at the dealership and employee levels to drive showroom traffic and increase business. I am very proud of the results our dealer partners are achieving through our Certified Dealer Program, which this Dealer Satisfaction Award recognizes."
DealerRater is the world's premier car dealer review web site. Recent data research by Open Access Marketing found that DealerRater has triple the overall dealership review count of Google+ and 43% more dealership reviews than Google+, Yelp, Yahoo! Local, Cars.com and Edmunds combined. It also found that DealerRater star ratings appear on the first page of Google search engine results for 87% of franchised dealership names.
With its unparalleled volume of dealer reviews now approaching 950,000, 26% of all franchised dealers in the U.S. have embraced DealerRater and its award-winning Certified Dealer Program as a critical component of their online reputation management efforts.
"We congratulate DealerRater on winning a 'Top Rated' Reputation Management Award and for being recognized by its dealer customers for high levels of excellence and customer satisfaction," said DrivingSales CEO and Founder Jared Hamilton. "Dedicated dealership service providers like DealerRater continue to step up and pioneer innovation, performance, and customer service that meets – and exceeds – the expectations of its dealer customers."
The DrivingSales Dealer Satisfaction Awards measure dealer satisfaction with vendor products and services, and are based on cumulative ratings tallied and verified over the calendar year (January – December) at DrivingSales.com Vendor Ratings is the industry's only neutral, comprehensive vendor rating forum featuring real-time peer reviews and honest competitor comparisons, and provides dealerships with important information from actual customers who have hands-on experience using vendor products / solutions in their stores. Each rating is verified as coming from an actual dealership employee.
Full award results are available online at http://dealersatisfactionawards.com/. Award winners are showcased in the Q1 2013 issue of the DrivingSales Dealership Innovation Guide which, in addition to being distributed at the 2013 NADA Convention and Expo, is delivered to every new car dealership nationwide, as well as to the top 100 used car dealerships. For more information on the Dealership Innovation Guide, please visit: http://drivingsalesinnovationguide.com/.
About DealerRater:
DealerRater was founded in 2002 as the first car dealer review website worldwide. DealerRater is the world's #1 online resource for anyone seeking trusted third-party information on automobile dealerships. DealerRater features nearly 40,000 U.S. and Canadian car dealers, nearly 950,000 consumer reviews and over 1 million cars for sale. DealerRater attracts more than 9.5 million consumers every year who visit the site to search for car dealerships, read reviews, write their own descriptive reviews, and find car deals – all for free.
In addition, DealerRater offers qualified car dealers a Certified Dealer Program as a reputation management tool to help them grow their online presence and achieve higher SEO rankings across the Web. Today, more than 4,600 dealers are members of the award-winning DealerRater® Certified Dealer Program. DealerRater is proud to have earned the #137 position on the 2012 Inc. 500 list, an exclusive ranking of the fastest-growing private companies in the United States. For more information, visit http://www.DealerRater.com or call 800-266-9455.
About DrivingSales
Founded in 2008 and dedicated to the dealer community, DrivingSales is a business intelligence and performance improvement company that delivers unbiased*, profit-building information to make automobile dealers more successful through three distinct channels: DrivingSales Data, DrivingSales University and DrivingSales Media. DrivingSales Data houses the largest database of cross-vendor, dealership performance data in the North American auto industry and provides dealerships with the most statistically accurate performance benchmarks and metrics for their marketing and technology investments. DrivingSales University is a fully interactive online university that offers advanced profit-building strategies to automotive professionals through hundreds of classes taught by world-leading experts. DrivingSales Media connects dealers to peers and information through its global media assets, including DrivingSales.com, the world's largest automotive social network; The Dealership Innovation Guide, an industry leading quarterly publication; DrivingSales Executive Summit, the top automotive conference for progressive dealers, and DrivingSalesTV, Web TV covering everything car-dealer related. Approximately one in every three dealerships in the United States has a registered member in the DrivingSales community.
*Vendor Neutral Policy: Dedicated solely to making dealerships more profitable, while also providing benefit to automakers and the industry as a whole, DrivingSales adheres to a strict vendor neutral policy through each of its channels. This means the company only provides unbiased information, not 'pay-to-play' follow up services -- and never accepts payment in exchange for media coverage or lets potential advertisers dictate messaging or create bias in any of its channels.