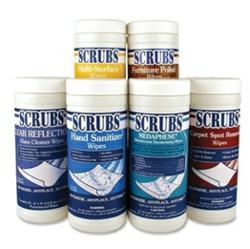 Olathe, Kansas (PRWEB) February 08, 2013
Cleaningsuppliesoutlet.com offers now 20% in savings by selling direct to consumers.
All businesses must spend money on cleaning supplies, but when they buy those cleaning supplies directly from the manufacturer, they can save money.
Most business owners think they are getting a good deal on cleaning supplies because they get a bulk rate or a special business discount. However, what most businesses don't know is that they are still spending more money on cleaning supplies than they need to spend.
Despite their special deals, most companies still purchase their cleaning supplies from a traditional distributor. A traditional distributor does not make or bottle the cleaning products but simply sells and ships them to the appropriate locations. While this model is traditional and convenient, the only problem is that it is more expensive because business owners must also pay for the distributors' cut in the process.
A better, less expensive way for companies to purchase cleaning supplies is to purchase them directly from the manufacturer. This cuts out the middle man and the price of the product because the distributors' cut is no longer figured in. Companies still get high-quality, safe, and strong cleaning products that they need to maintain their business, and they save money doing so. Because cleaning products are staples that need to be purchased over and over again, companies sometimes save a great deal of money by purchasing from those who sell directly.
Buying direct from Cleaning Supplies Outlet is also just as easy and convenient as buying from a distributor, if not more so. Companies do not have to worry about complex ordering or making trips to pick up supplies. When they buy direct, companies can still simply order their products online and have them shipped to their homes.
In this economy, companies from big to small are looking for ways they can save money. Fortunately, buying direct from Cleaning Supplies Outlet is an innovative way of saving money that can significantly benefit businesses. When they switch from purchasing traditionally to purchasing directly, companies will see a large and repeat savings.
About Cleaning Supplies Outlet
Saving you 20% on cleaning supplies!
Cleaning Supplies Outlet offer the best deals in cleaning products, that is our promise, if you get a better deals anywhere else, just let us know and we will beat it.
For more information about our products, visit our website at http://www.cleaningsuppliesoutlet.com or contact us at the following email address: info(at)cleaningsuppliesoutlet(dot)com