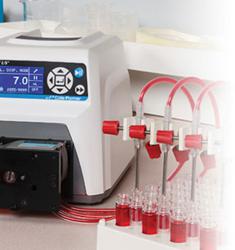 Vernon Hills, Ill. (PRWEB) February 07, 2013
A new formulation from Masterflex provides the ideal peristaltic pump tubing for general fluid transfer applications. The Masterflex® Tygon® E-Lab Pump Tubing from Cole-Parmer handles virtually all inorganic chemicals and operates well with viscous fluids. Because the economically priced tubing contains no BPA or phthalates, it is an excellent option for food and beverage, biopharmaceutical, and other laboratory uses.
The Masterflex® Tygon® E-Lab Pump Tubing is FDA-compliant (21 CFR 175.300) and meets USP Class VI and NSF 51 requirements. As a long-life tubing, it is nonaging and nonoxidizing, with low gas permeability. It can be bent for sharp radius curves and works easily with fittings. Users can monitor their flow through this transparent tubing.
To find out more about the Masterflex® Tygon® E-Lab Pump Tubing, call 800-323-4340 or visit ColeParmer.com/19764.
Cole-Parmer has been a leading global source of laboratory and industrial fluid handling products, instrumentation, equipment, and supplies since 1955. Our product lines, including popular brand names such as Masterflex®, Oakton®, and more, are sold through company-owned customer channel outlets and a strong network of international dealers. We also feature an ISO-17025-accredited metrology lab for instrument calibration and repair. Cole-Parmer responds with excellence to customer needs, and offers application expertise and technical support. For more information, contact Cole-Parmer, 625 East Bunker Court, Vernon Hills, IL 60061. In the US, call 800-323-4340. International customers, call 847-549-7600. Visit us at http://www.coleparmer.com.