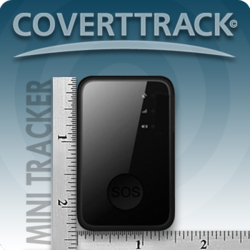 The MicroTracker III GPS Tracker represents the next generation of miniature GPS tracking equipment from CovertTrack
(PRWEB) February 12, 2013
CovertTrack Group, Inc., a leading surveillance solutions company specializing in law enforcement surveillance equipment and GPS tracking for investigative professionals, announces the release of a new, state-of-the-art, portable GPS tracker to their line-up of high-tech GPS tracking products.
The MicroTracker III – GPS Tracker represents the next generation of miniature GPS tracking equipment from CovertTrack. This GPS tracker is specifically designed to fulfill a wide range of tracking applications including tracking people, assets and vehicles, in virtually any environment.
This multi-function tracking device is arguably the most versatile GPS tracker available today. Its sleek, black, miniature profile is designed for optimal concealment and convenience for users. A completely updated GPS module delivers greater sensitivity with unsurpassed tracking accuracy.
"The MicroTracker III represents an essential tool in our surveillance equipment line for investigators and resellers of GPS tracking", said Brian Arrowood, Director of Sales and Business Development for CovertTrack Group. "Its versatility enables tracking for a variety of different applications including providing security for individuals, tracking suspect vehicles, and tracking high-value assets that become targets for theft."
The MicroTracker III from CovertTrack is loaded with an array of advanced tracking features and alert functions that enable users to effectively track the things that are most critical to them.
Most Popular Alert Functions:

Geo-Fence Boundary Alerts
Motion Alerts
Device Proximity Alerts
Low Battery Alerts
Panic Alert
Most Popular GPS Tracking Features:

Live Tracking down to less than 5 second intervals
Miniature Size - 2.3" x 1.5" x.75"
Email & Text Messaging Alert System
Panic/SOS Button
Landmark Locations
Current & Historic Speed
Address & Latitude/Longitude
Tracking Reports including Stop Times & Addresses Visited
Access to Unlimited Historic Tracking
Plus… Many More Proprietary features for Law Enforcement applications
CovertTrack provides a robust, easy-to-use tracking interface to effectively perform tracking operations online, using any internet-enabled computer or mobile device. Users never get stuck tracking from their home or office, affording them the advantage of knowing where any vehicle, asset or individual is located, at any time.
Visit http://www.gpsintel.com to learn more or call (480) 661-1916 to find a reseller near you.
About CovertTrack Group
CovertTrack Group, Inc. is a leading surveillance solutions provider specializing in developing innovative, world-class surveillance technologies that enable investigators to conduct surveillance operations safely and effectively.
Our cutting-edge GPS tracking solutions enable live tracking, in any environment, for extended periods of time. Combined with a state-of-the-art, custom online tracking center, investigators can track assets, vehicles or people down to sub-minute intervals on any internet-enabled computer or mobile device.