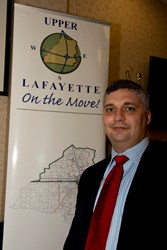 I truly believe that great things are happening here, and I look forward to assisting with the growth of this community.
(PRWEB) February 11, 2013
Kirk LaCour, director of the National EMS Academy, has been named to the Upper Lafayette Economic Development Foundation's Board of Directors. ULEDF's mission is to "enhance and direct the positive, planned growth of Upper Lafayette, focusing on quality of life, while participating in the overall development of the Greater Lafayette Metropolitan Area."
LaCour was sworn in, along with the existing Board and fellow newcomer Bryan Tabor, at ULEDF's third annual "Upper Lafayette Success Stories." Held on Wednesday, January 16, at NEMSA's Lafayette, La., campus auditorium, the event also celebrated the success of two family businesses—Breaux's Mart and Tabor's business, Ace Plumbing —and their deep commitment to Upper Lafayette.
LaCour has been in the field of emergency medical services for 15 years and is responsible for the training of medics at nine of NEMSA's campuses throughout Louisiana and Texas. He has worked in many facets of public service—as a police officer, firefighter, paramedic, corrections officer, and most recently as a deputy coroner. He continues to utilize his business expertise to help non-profit organizations, serving as president and CEO for a rural volunteer fire department, and for the Louisiana Tactical Emergency Medical Society. He is also a voting board member for the Louisiana Association of Nationally Registered Emergency Medical Technicians.
"I am extremely excited and honored to be a part of a great group of people who are working to help Upper Lafayette develop and thrive," said LaCour. "I truly believe that great things are happening here, and I look forward to assisting with the growth of this community."
NEMSA is a division of Acadian and offers entry-level, continuing education, and refresher courses for a number of EMS career pathways, including EMTs and paramedics. NEMSA is a nationally-accredited EMS training facility and an authorized American Heart Association Training Center for CPR and ECC courses.
Since 1971, Acadian has been committed to providing the highest level of emergency medical care and transportation possible. In the past decade, the company has expanded to include a diverse suite of services in health, safety, and transportation. Acadian's six divisions are Acadian Ambulance Service, Acadian Monitoring Services, Air Med, Executive Aircraft Charter Service, National EMS Academy and Safety Management Systems.
###