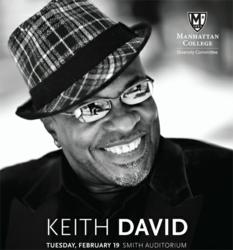 RIVERDALE, N.Y. (PRWEB) February 07, 2013
In celebration of Black History Month, renowned actor and singer Keith David will travel to Manhattan College on Feb. 19 to stage a medley of African-American-themed songs and historical readings. The event will be held in Smith Auditorium from noon to 2 p.m., and is sponsored by the College's Diversity Committee.
David, who boasts more than 150 film, stage and television credits, including roles in the blockbuster hits "Crash," "There's Something About Mary" and "Platoon," will recite two notable Frederick Douglass readings, including the seminal 1852 speech "What to the Slave is the Fourth of July?" In addition, he will perform an assortment of classical songs popularized by civil rights icon Paul Robeson. Jazz/pop recording artist Frank Owens — a Broadway composer/conductor who served as the original musical director for The Late Show With David Letterman — will accompany David on piano.
A native New Yorker now living in Los Angeles, David has earned Emmy awards for his voiceover roles the Ken Burns documentaries "The War" and "Unforgivable Blackness: The Rise and Fall of Jack Johnson." He has also received a Tony nomination in the Best Supporting Actor category for his role in the Broadway musical Jelly's Last Jam.
Media interested in attending should contact John Tucker by email at [email protected] or by phone (718) 862-7232.
###
About Manhattan College:
Manhattan College is located at West 242nd Street near Broadway in the Riverdale section of the Bronx, one mile from the Westchester County line and accessible by MTA subway line No. 1. For directions to the campus, visit http://www.manhattan.edu.
Founded in 1853, Manhattan College is an independent, Lasallian Catholic, coeducational institution of higher learning offering more than 40 major programs of undergraduate study in the areas of arts, business, education, engineering and science, along with continuing and professional studies, and a graduate division. For more information about Manhattan College, visit http://www.manhattan.edu.
Press Contact:
John Tucker
718-862-7232
john.tucker(at)manhattan(dot)edu