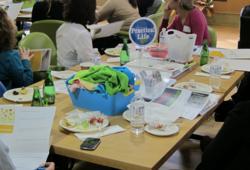 Toronto, Ontario (PRWEB) February 07, 2013
Although dementia has been an issue for centuries, society has never had to deal with it like they do today. With Canadians living longer there are many more people that are susceptible to developing dementia and it is becoming apparent that the current institutions in place to care for the elderly are unable to deal with this rising problem.
Gail Elliot, founder and CEO of DementiAbility, is a leading Canadian expert on dementia and recently gave a talk at Dementia Support Dov & Zipora Burstein Senior Centre about how caregivers can apply practices from Montessori schooling to greatly increase the quality of lives for those with dementia. It was a full house of caregivers, social workers, GEM nurses, PSWs, and other care professionals who were eager to learn about how they could apply the principles of the Montessori Methods for Dementia™, which are the core philosophy of Dementia Support.
The attendees were seated at four tables representing the four pillars of the Montessori Methods for Dementia: Sensory, Practical Life, Social Cultural & Spiritual, and Cognitive. Each pillar has its own activities that were on display. At the Sensory table you could match unlabelled spice jars with their respective labels and at the Practical Life table you could fold towels and match socks. At the Cognitive table you could do counting tasks and at the Social, Cultural & Spiritual table you could match photos of holidays to their proper names. While these activities may seem simple for most of us, for those with dementia they can be a key aid in slowing the progression of their symptoms.
According to the Alzheimer Society of Canada the number of people with dementia is set to double from the current number of 500,000 to 1,000,000 by 2038. That's one million people that will require targeted care that hasn't been available to them up to this point.
Dementia is an umbrella term for various diseases – such as Alzheimer's disease - that result in issues with memory and behavior. When not properly cared for these diseases can progress at a rapid rate, leaving a person to become a shell of what they once were. It is not just the person with dementia that suffers; family are left to care for someone they love but who are unable to care for themselves, adding stress and difficulty to their lives.
There are solutions though.
Although no cures for dementia diseases are yet available, with a proper regiment of care the progression of dementia can be slowed down and in some cases symptoms can even be reversed. The Canadian Institutes of Health Research recently held a discussion about the myths surrounding dementia, of which there are many.
Dr. Christopher Patterson, professor of Geriatric Medicine at McMaster University shared lots of important information that can help Canadians understand just how dementia affects Canadian society. He referred to two retirement homes in the UK that seemed to be just as confused as the general public can be: one stated that they would allow in people with dementia, but not Alzheimer's disease, while the other stated the exact opposite.
That's where the Dementia Support Dov & Zipora Burstein Senior Centre comes in, a new senior day centre that focuses on helping those with dementia. Most senior centres tend to view dementia patients as a burden, in the way of taking care of other, less difficult seniors. In fact many people suffering from dementia are turned away from government-subsidized treatment programs. But at Dementia Support all the programming is geared towards the needs of those with dementia.
Using the Montessori Methods for Dementia™, Dementia Support takes into account that each person with dementia has their own needs so programming is focused on the individual. It is this type of care that allows real improvements to be seen in those with dementia – they interact and socialize more, they are more self-reliant, and they find more joy in life.
Dementia Support Dov & Zipora Burstein Senior Centre is Toronto's specialist in dementia care and is located at 1140 Sheppard Ave. West. The senior day care program is the newest in a long line of initiatives aimed at improving the quality of life for those living with dementia in Canada. More information can be found by calling Dementia Support direct at 416-638-8600 or by visiting their website at http://www.dementiasupport.ca