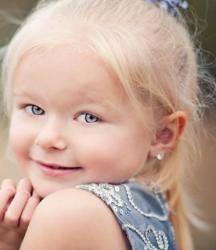 Bloomington-Normal, IL (PRWEB) February 09, 2013
RORIE's – MARROW DRIVE FOR LIFE. Be A Hero. Save a Life.
WHAT: Be A Hero. Save A Life. Rorie's Marrow Drive for Life. Join the Marrow Registry. A simple swab could save a life...If you're healthy, between the ages of 18-44 and willing to save a life – please attend RORIE's MARROW DRIVE FOR LIFE.
WHO: Rorie Joslin is a 3 year old patient at Texas Children's Hospital in Houston. Rorie needs YOUR HELP as she fights Hypodiploidy A.L.L. Leukemia - a very rare form of Leukemia. In urgent need of a matching marrow cell donor, Rorie and her family need you to step up and join the Be The Match Marrow Registry. With your help, we could find the perfect match which lil Rorie so desperately needs. A drive will be held Wed., Feb. 18th at ISU Bone Student Center from 10AM-3PM. This simple test requires a cotton swab of the inside of one's mouth and is painless. Donors should be between the ages of 18-44 years and all blood types are eligible. Please consider helping Rorie find her match! Join the Be The Match Marrow Registry, bring hope to Rorie, her family & thousands like her.
WHY: Every year, more than 10,000 patients in the U.S. are diagnosed with life-threatening disease for which a marrow or umbilical cord blood transplant from an unrelated donor may be their best or only hope of a cure.
Leukemia, lymphoma and other life-threatening diseases can be cured with a marrow cell transplant, but only if there is a match. Patients in need of a marrow or blood cell transplant are most likely to match someone of their own race and ethnicity. 10,000 patients, desperately searching for a life-saving marrow match - someone just like YOU!
As the U.S. population, and patient base, become increasingly diverse, the need for a correspondingly diverse donor pool becomes urgent. Only 3% of the registry is of mixed racial & ethnic heritage; only 7% is of Asian heritage.
WHEN/WHERE: Monday, February 18th, 2013, 10am-3pm
ISU Bone Student Center
Northeast corner of W. College Ave & N. University St.
Bloomington-Normal IL
BACKGROUND: Special Thanks to event sponsor ISU & co-sponsor Health Promotion & Wellness. The NMDP facilitates unrelated marrow and blood cell transplants as a single point of access for a long-standing collaborative network of national and international leading medical facilities in marrow and cord blood transplantation. The NMDP connects patients, doctors, donors and researchers to the resources they need to help more people live longer and healthier lives.
CONTACT: Taylor Seemuth, Be The Match Recruiter, 815-961-2346 (office), 319-330-7930 (cell) or email tseemuth@rrvbc.org