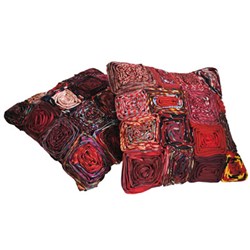 Dreamweavers had a revolutionary way of recycling unwanted material when they created the Executive cushion, which made use of fabric off-cuts from the fashion industry.
(PRWEB) February 11, 2013
Already established as a high end luxury soft home designer brand, Dreamweavers have been broadening their product catalogue to include some new modern cushions. Now available at Contemporary Heaven, the newest addition to the Executive soft home range from Dreamweavers expands upon a current theme. The Executive Swiss Cushion joins the Executive range of decorative soft home accessories to bring a myriad of colour to any space in the home or workplace. Each cushion has a completely unique design and benefits from the high quality manufacturing expected of Dreamweavers products.
Available in two colour options, each Executive Swiss cushion is completely unique. The reason for this is the origin of the materials used for creating the wonderful textured cushion front. Dreamweavers had a revolutionary way of recycling unwanted material when they created the Executive cushion, which made use of fabric off-cuts from the fashion industry. So much material can be wasted when creating fashion garments, and the Executive range of soft home accessories reduces the environmental impact by using these off-cuts. The original Executive cushion featured these materials stitched on the front in a bow-tie design, hence the name of the range.
The Executive Swiss differs somewhat from the original Executive cushion. Foremost, it differs in design by having hand stitched square shaped swirls of fabric on the front of the cushion in a very bohemian style. There are two colour varieties available and fabrics used vary substantially in colour and pattern, mostly on the Multi Mix version. The Red Mix Executive Swiss has fabrics of toning red shades in different patterns, whereas the Multi Mix Executive Swiss features a range of colours and patterns from pinks and reds to blues, greens and yellows. The back of a Swiss Executive cushion is covered in plush black velveteen fabric that has a sumptuous feel and keeps to the luxury theme which is carried throughout the Dreamweavers soft home collection.
Available at Contemporary Heaven is a comprehensive range of Dreamweavers cushions and rugs which includes many different styles and a multitude of colour choices. The pebble range is the largest of these, currently with fifteen different colour options which includes subtle charcoal and cappuccino, neutral camel and snow white, rich cherry red and grape purple or bold colours like lizard green and pink. Each colour is available on a cushion as well as a matching rug in three sizes. Other Dreamweavers styles available online and in store at Contemporary Heaven include the spiky range, the bamboo range, the Italian Swarovski collection and the Shimmer range.
About the Company
Contemporary Heaven is a Hertfordshire based retailer and manufacturer with online outlets in the UK, Holland, France, Germany, Poland and the US. They are a subsidiary of Roco Verre LTD which has been in existence for more than 15 years, supplying a range of home accessories to retailers, businesses and individuals. Their range of home accessories includes modern clocks, custom time zone clocks, personalised school clocks, coasters and placemats, unusual wall mirrors, storage solutions, contemporary lighting, bathroom accessories, barware and much more.
For more information, visit http://www.contemporaryheaven.com
Contact Details:
Roco Verre Ltd
Contemporary Heaven Division
68 Wilbury Way
Hitchin
Herts
Ph.: 44 (0)1462 451199