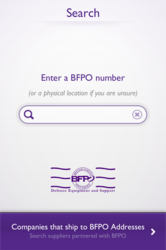 We built them an app and defined their new brand in one go, we're incredibly proud.
London (PRWEB UK) 11 February 2013
When looking for a new service partner, the British Forces Post Office, BFPO, chose a more creative agency in Locassa Ltd to deliver a fresh new product for families of British servicemen and women. The app provides posting information, last post deadlines, postage calculators and postal restrictions to those with family members or partners stationed with the British Forces both in the UK and overseas, however it is the rebranding of such an established service which Locassa are most proud of.
Simon Lee, Locassa CEO explains, "Normally when working with large, established institutions such as the BFPO, we have to adhere to strict branding and style guidelines and the start of this project was no exception. Despite having some amazing creative members in our team, we were told to follow the current branding as expected, however one of our guys tried out a fresh and clean new brand just as an example to show what could be done." The reception was unexpected as Simon explains, "We showed the BFPO team and they loved it, we weren't expecting them to adopt the new branding at all, but now they are rolling it out to their other products and services. We built them an app and defined their new brand in one go, we're incredibly proud."
The new brand design features a clean backdrop with a deep purple accent, clear labelling, modern typography and a 'human' aspect to the user interface and user experience. "We look at the target demographic for the apps we work on and tailor the approach accordingly", Simon said, "In this case, families and parents of those in the Forces. We decided a human-like approach was best so we pose the question 'What do you want to do today?' By taking this approach the interface becomes clean, understandable and easy to use, yes we got our trademark gesture interaction in there in the form of the postage calculator, after all it wouldn't be a Locassa app without it." he concluded.
Locassa have since moved onto the next BFPO mobile app, due to launch soon, showing the forward thinking focus of the client something which Simon is increasingly seeing. He explains, "More and more clients come to us because they want to move their products and services forward, and in the app world, we're the studio who make that happen. It's an exciting time for mobile and we're very excited to be such a large part of it."
The BFPO app is available on Apple iPhone and iPad now.
Company Information
Locassa was founded in 2009 by Simon Lee, and is now one of the top app development studios in the UK employing a team of highly focused individuals across development, creative and management. Locassa work differently to most iPhone developers and iPad development companies something which shows in their work. Locassa pride themselves on producing amazing work for their clients and ensuring that every app experience is a unique one.