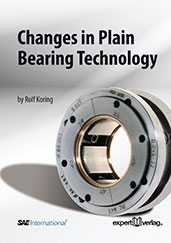 This book questions accepted test results and looks at alternative material compounds and their application suitability.
WARRENDALE, Pa. (PRWEB) February 08, 2013
SAE International offers a unique fusion of theoretical and practical knowledge of hydrodynamic bearings in its book, "Changes in Plain Bearing Technology."
Authored by Rolf Koring, the book draws from years of experience in design development, materials selection, and their correlation to real-life part failure. "Changes in Plain Bearing Technology" tackles the highly complex issue of component failure and addresses the basics of hydrodynamic plain bearings while shedding new light on the performance of compound materials, including the limits of measurable fatigue strength, the lining materials of the future and damage evaluation.
This new book questions accepted test results and looks at alternative material compounds and their application suitability. The process, which leads to innovative answers on how the technology is transforming itself to respond to new market requirements, shows how interdisciplinary thinking can recognize new potential in long-established industrial modus operandi.
Chapters include:

The Hydrodynamic Plain Bearing and its Advantages
Backing Materials
Lining Materials
Compound Material, the Great Unknown
Investigations on Test Rigs
New Conclusions Relating to Compound Materials for Plain Bearings
Preconditions for the Surface Lining of Plain Bearings
The Lining of Plain Bearings
The Quality Standards for Plain Bearings
Plain Bearing Assembly and Operation
Plain Bearing Damage
The Future of Plain Bearings
Koring studied mechanical engineering sciences at the University Duisburg. Upon graduation, and for the following 17 years, he performed static and dynamic analyses on steel structures for bridges and power plants, eventually specializing in damage analysis and refurbishment. Since 1990, he has been involved in the area of plain bearings, focusing on metallurgy, new technologies, and damage analysis. He first worked at Th. Goldschmidt AG, Essen and, from 1998 on, at ECKA Granulate GmbH, where he became the head of the company's Plain Bearing Technology unit.
In 2002, he founded the VDMA (Verband Deutscher Maschinen und Anlagenbaun) working group on plain bearings, having also become its chairman. His international experience, both at the manufacturing and end-user levels, provides him with deep insight into the challenges faced by those in the same field.
Book Details
Published By: SAE International
Published: November 2012
Pages: 230
Binding: Softbound
Product Code: R-420
ISBN: 978-0-7680-7724-7
Price: $85.00 List, $68.00-$76.50 SAE International Member
For more information, including free front and back matter, or to order "Changes in Plain Bearing Technology," visit: http://books.sae.org/book-r-420.
To request an electronic review copy of the book, email pr@sae.org . Forward published reviews to Shawn Andreassi at pr@sae.org or SAE International, 400 Commonwealth Dr., Warrendale PA, 15096-0001, to receive a print copy of the book or another equivalent SAE International book.
SAE International is a global association of more than 138,000 engineers and related technical experts in the aerospace, automotive and commercial-vehicle industries. SAE International's core competencies are life-long learning and voluntary consensus standards development. SAE International's charitable arm is the SAE Foundation, which supports many programs, including A World In Motion® and the Collegiate Design Series.