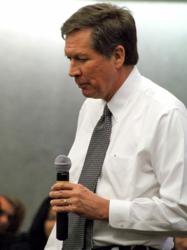 Smart business owners are considering Gov Kasich's budget plan BEFORE making hiring decisions. – Kim Bolin, Horizon Business Solutions, Columbus Ohio
Columbus, Ohio (PRWEB) February 08, 2013
Ohio Governor John Kasich presented a two-year budget proposal this week that is full of tax cuts and increases. At the end of the day, much of the proposal simply moves money from one area to another resulting in a zero net gain or loss. There are, however, some tax implications that may have a very positive effect on small business. There are several line items that that Kim Bolin of Horizon Business Solutions believes should be on the watch list of every Ohio business owner.
First on the list is Medicaid Coverage for low-income adults. The Supreme Court ruling on the Affordable Care Act (ACA) made implementation of the Medicaid expansion a state choice. While Kasich has publically criticized Obama's Health-care law, he is embracing an expansion of Medicaid that will provide much needed coverage to approximately 450,000 uninsured Ohioans over the next three years. Primarily this is a health-care issue but the predicted upshot for business owners is a healthier, more capable work force. Kasich said, "Forcing thousands of Ohioans to seek medical care through hospital emergency rooms is not humane, and cost everybody a lot of money." Bolin agrees, "The low-income individuals that this initiative helps are people that were formerly contributing to the business growth and well-being in our state. Helping them return to work, or come to work with their physical and mental abilities restored is a win-win for everyone!" He went on to say, "Absenteeism cost small business owners a small fortune every year. I think we are going to see significant costs savings as well as an increase in productivity."
A recent news release by the Kaiser Commission reported the same in their January 2013 Report. "By helping individuals get their health under control, providing Medicaid coverage supports their ability to take charge of their lives and focus on other priorities and goals, including employment. This broad array of potential personal impacts is another factor to be considered as states weigh going forward with the Medicaid expansion."
Also on Bolin's list are some proposed income tax cuts for individuals. Over the next three years the Governor plans to phase in a 20 percent personal income tax cut for individuals. Bolin is all for this part of the plan. He explains, "The tax cut for individuals would go into effect this year. The net result is all Ohioans would pay 7.5 less in taxes this year! That's a significant and immediate amount for most people and will help stimulate spending in the small business economy."
Even more significant on Bolin's watch list is the proposed 50 percent cut in taxes for Small Business. Small businesses in Governor Kasich's plan were defined as those making $750,000 or less per year. Bolin believes this part of the proposal will push business owners to increase new hires. He says, "I can't speak for all of our clients but many have shared with me their hesitancy to hire new employees. They are feeling the growth in the economy but have been uncertain about increasing the payroll burden of a larger staff. Bolin believes this initiative will likely give them the confidence to grow their businesses.
For more information and follow-ups on the budget progress, stop by the Horizon Business Solutions Blog at http://www.horizonbiz.com/blog1.php.