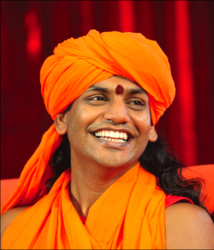 Los Angeles, CA (PRWEB) February 07, 2013
In a milestone achievement for the education wing of the Nithyananda Mission, the Nithyananda Yoga & Meditation University (NYMU also known as NMU) was awarded life-time exemption under CEC ( California Education Code) 94874(e)(1), by the Bureau of Private & Postsecondary Education for the State of California, to award religious degrees autonomously.
NYMU will be offering to people worldwide a host of degree courses related to meditation, yoga and related fields of the Vedic tradition, as inspired and propounded by His Holiness Paramahamsa Nithyananda.
Vice-Chancellor Ma Nithya Maneeshananda said, "This is a great milestone for NYMU and a huge opportunity and responsibility for us to take the timeless truths and life solutions of the Vedic tradition to the whole world. This will help us fulfill our mission to transform and raise the consciousness of humanity by enriching the consciousness of every individual."
About His Holiness Paramahamsa Nithyananda:
His Holiness Paramahamsa Nithyananda, who is the spiritual guide for the Nithyananda Yoga & Meditation University is a global leader in the science of enlightenment. Nithyananda is revered as a living saint and a Avatar (divine incarnation) by millions worldwide.
He is the most-watched spiritual teacher on YouTube.com with more than 16 million views, and the author of more than 300 books published in 27 global languages. Nithyananda has been named among the world's top 100 most spiritually influential personalities of 2012. An accomplished yogi and gifted spiritual healer, Paramahamsa Nithyananda has healed diseases ranging from migraine to cancer, often with a single initiation.
For close to a decade now, Paramahamsa Nithyananda has been working with scientists and researchers to demystify the yogic sciences of the Universe, including kundalini awakening, DNA activation, brain-cell regeneration, levitation, materialization and yogic age-reversal.