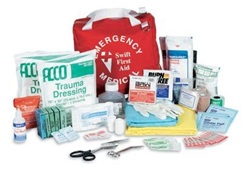 Olahe, Kansas (PRWEB) February 08, 2013
Safetyequipmentdirect.com offers now 20% in savings by selling direct to consumers
Businesses can save a significant amount of money by purchasing direct.
According to local, state, and federal laws, businesses must purchase safety equipment on a regular basis in order to ensure employees and customers stay safe. However, this safety equipment can often represent a large part of the annual budget.
Unfortunately, businesses often pay much more than necessary for safety equipment because they must purchase through a middleman. The middleman is a big box or warehouse store that sells the equipment commercial consumers. Because the middleman expects to be paid for its services, the price of safety equipment increases.
Fortunately, businesses can reduce the cost of equipment without reducing the quality by buying direct. Businesses can purchase the same quality equipment at a lower price. This relationship benefits both the organization that is selling direct. Both companies profit, which improves the economy and encourages the production of quality safety equipment as well as the business for the corporation that is purchasing the equipment.
Selling direct helps businesses across several industries, from construction companies and engineering firms to companies that offer small engine repair and even research laboratories and restaurants. Schools and government organizations can also benefit from purchasing direct. In fact, companies that sell directly can often make a large impact on schools and government organizations that must stretch to find a budget to cover their meaningful work.
Any company or organization that uses safety equipment can benefit from companies that sell safety equipment directly. Further, companies can purchase a number of types of safety equipment from corporations that practice selling direct. For example, companies that sell direct manufacture goggles, safety vests, hardhats and helmets, lab coats, clothing, and more.
One of the biggest benefits of buying safety equipment direct is the fact that the same high-quality safety equipment is available, from Carhartt jackets to 3M adhesives and monitors. Companies that sell direct offer the brand names that companies have come to trust at a fraction of the cost.
About Safety Equipment Direct
Safety Equipment Direct has the biggest collection of safety equipment to suit all your safety needs and all products pass through stringent quality checks before being put up for sale. Safety Equipment Direct is an ISEA accredited safety equipment seller that puts safety above profit!
Buying from us saves you 20% compared to all our competitors because you are buying DIRECT from the source. We eliminate all the middle men to bring you the lowest prices. That is our promise. If you find it cheaper anywhere else, just let us know and we'll beat it.
For more information, please visit us at http://www.safetyequipmentdirect.com or contact us at the following email address: info1(at)safetyequipmentdirect(dot)com