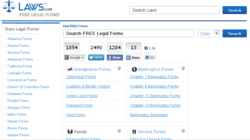 Free forms from legal resource sites like government websites, laws.com and from other government agency websites.
(PRWEB) February 11, 2013
Legal forms and agreements are part and parcel of our social life. Individual and businesses use some kind of contract agreement or legal forms in the day to day life. The search for legal forms and agreement only starts when an individual need to fulfill a formality or to enter into an arrangement with the other party, though many know what form they may need but in general many don't know where to look for it. This press release helps individuals to find the source where one can get free legal forms and agreements.
For a business start up, they may have to fill out commercial lease agreement form, partnership agreement in case of partnership business and have to file Article of association and memorandum of association to start a company. Apart from this forms there are other essential forms like company registration form, recruitment form, employee tax forms and so on. In business, in one or other point, various agreements and forms are needed.
It not just businesses that his always in need of various legal forms, even individual uses various forms like passport form, rental agreements, income tax forms, property tax forms. It's vital to understand though there are 1000s of legal forms; most of them can be downloaded for free from the internet.
There are many online sites that sell agreements and forms that are readily available for free download, so internet user should aware of such service and try the free forms from legal resource sites like government websites, laws.com and from other government agency websites.
Whether an individual running a business or searching forms for personnel use, they can download various legal forms from the internet, but the problem people face is where to look for legal form they are searching. Though many government sites have form section they don't cover various forms and in most case they just cover the department or the local government related forms that make it difficult to pinpoint a single site for free forms but legal resource website like laws.com have dedicated section for legal forms, they list more than 25000 legal forms and agreements and that covers almost all forms that one need.
This is a public interest press release from laws.com to increase awareness among public about the availability free legal forms and contract agreements. Laws.com is a law platform for all legal related issues, forms and legal guides.