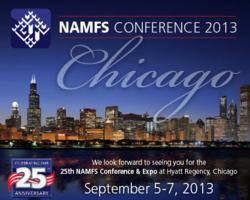 Stow, OH (PRWEB) February 27, 2013
NAMFS is pleased to announce the dates of its 2013 Conference and Expo to be held in Chicago, Illinois from September 5 through September 7. This three-day event has evolved over the years to include volunteering, networking and educational sessions tailored to the diverse needs of the Association's membership.
The content of the 2013 NAMFS Conference will be largely focused on the educational resources available through the Association. Breakout sessions are designed to assist attendees to handle common questions, concerns and challenges associated with the day-to-day operation of a business in the mortgage field service industry. Participants will be able to utilize the information gleaned during these sessions to grow and improve their businesses. In addition to breakout sessions, general sessions will be presented offering insights into the most recent developments within HUD, Fannie Mae and Freddie Mac that impact the field service industry.
NAMFS will be kicking off the 2013 conference by partnering with a local charity to sponsor a volunteer opportunity for attendees of this year's conference on September 5. This year's Expo will also be the largest in the history of the Association, encompassing over 30,000 square feet and taking place over the first two days of the conference.
The 2013 NAMFS Conference will be open to members and sponsored subcontractors.The Association highly recommends sending both employees and subcontractors to this education driven event with the intent of preparing them to become certified to provide field services while gaining a better understanding of the industry.
Early registration for this event will open in March. Additional information regarding the 2013 NAMFS Conference is available on NAMFS.org including links detailing sponsorship, exhibiting and volunteering opportunities for this industry-wide event.
About NAMFS
The National Association of Mortgage Field Services, Inc. (NAMFS) is the premier trade association for the mortgage field service industry. We are dedicated to working with all entities of the industry from the Government Agencies and investors that set policy to the contractors and inspectors that perform the work.