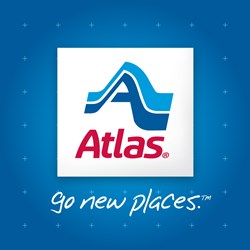 Evansville, IN (PRWEB) February 07, 2013
Atlas Van Lines, one of the nation's leading movers, announces two industry award wins for Atlas-affiliated moving professionals. Joel Barber, professional van operator for Atlas Agent Alexander's Mobility Services, earned the Household Goods Super Van Operator of the Year award, and New York-based Atlas Agent Collins Brothers Moving Corp. earned the Moving and Storage Agent of the Year Service Excellence Award. Both awards are given annually by American Moving and Storage Association (AMSA), the national trade association for the professional moving industry.
"It's an honor to have the Atlas name attributed to two of the moving industry's most prestigious awards for 2012," said Jack Griffin, president and COO of Atlas Van Lines. "Both Joel and the Collins Brothers agency have become huge assets to Atlas through their decades of service. Having members of the Atlas family earn the top spot in two categories of the annual AMSA awards for the second year in a row speaks volumes about how dedicated and passionate our network is to customers and the industry as a whole."
As the winner of the Household Goods Super Van Operator of the Year award, Barber is recognized among an elite group of van operators who have impressive history within the industry, such as miles driven, preventable or non-preventable accidents, lifetime driving record, time out of service for any "hours of service" or equipment violations, financial responsibility, community involvement, customer service, driving awards and outside interests and activities. In his 25 years with Atlas Agent Alexander's Mobility Services, Barber has been named to Atlas' Scroll of Honor 14 times, earned Alexander's Claims Award seven consecutive times, won Alexander's Customer Service Award 11 consecutive times, and received the Fleet All-Star Award in 2011.
AMSA awarded Atlas Agent Collins Brothers Moving Corp. the prestigious Agent of the Year award for its commitment to impressive customer service assessments, leadership, innovation, community involvement and activities that enhance the industry's image. Now in its 37th year of serving as an Atlas Agent, Collins Brothers has consistently been recognized with industry awards and honors. Collins Brothers is a 16-time winner of the Milton M. Hill Quality Award from Atlas – which recognizes the company's outstanding performance ratings in customer satisfaction – and among other honors, the agent attained at least a 90 percent favorable response when customers were asked if they would again choose the agency's services.
"On behalf of the employees and professional van operators of Collins Brothers, I am honored to receive this most prestigious award," said Frank Webers, CEO of Collins Brothers. "It is our staff of professionals that have made this possible."
About Atlas Van Lines
Atlas Van Lines, a national moving company, is the largest subsidiary of Atlas World Group, an Evansville, Ind.-based company. Atlas World Group companies employ nearly 700 people throughout North America. Nearly 500 Atlas interstate moving agents in the United States and Canada specialize in corporate relocation, household moving services and in the specialized transportation of high-value items such as electronics, fine art, store fixtures and furniture. For more information, visit http://www.atlasvanlines.com.
About The American Moving & Storage Association The American Moving & Storage Association (AMSA) is a non-profit trade association established in 1936. It has an education foundation (c)(3), The Moving & Storage Institute. AMSA represents more than 4,100 members, including interstate moving and storage companies, local movers, international movers plus suppliers and state association members. For more information, visit http://www.moving.org.