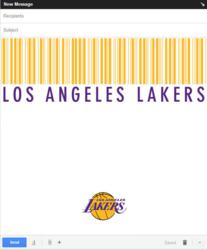 New York, NY (PRWEB) February 19, 2013
MeebleMail.com is proud to introduce email skins and email stationery templates for fans of the NBA in association with NBA Properties, Inc.
NBA fans can show their support for their favorite NBA team with every email they send. The collection features email skins for each team in the NBA including the Boston Celtics, New York Knicks, Philadelphia 76ers, Miami Heat, San Antonio Spurs, Memphis Grizzlies, Oklahoma City Thunder , LA Clippers, Chicago Bulls, Indiana Pacers, Atlanta Hawks, Orlando Magic, Dallas Mavericks, Denver Nuggets, Utah Jazz, Golden State Warriors, LA Lakers, Brooklyn Nets, Houston Rockets, Milwaukee Bucks and Portland Trailblazers.
"MeebleMail is excited to introduce a complete line of email skins, email backgrounds and email templates for all 30 teams in the NBA," said Sharon Gaffney, from MeebleMail. Gaffney added, "We are excited to give the passionate fans of the NBA a new way to show their team pride." The NBA was the first professional sports property to be added to MeebleMail's library of email skins and email templates.
NBA fans can personalize the email template with their name, monogram and more. Each design in the NBA collection is available for $1.99 per design for an annual subscription.
Browse all of MeebleMail's officially licensed NBA email skins at http://www.meeblemail.com/nba
The NBA and NBA member team identifications are the intellectual property of NBA Properties, Inc. and the respective member teams. ©2013 NBA Properties, Inc. All Rights reserved.
About MeebleMail.com
Meeblemail.com is the leading destination for personalized email stationery templates from well-known brands in fashion, home design, professional sports and entertainment that are compatible with the most popular email clients including Gmail, Hotmail, Yahoo and Aol Mail.
Each design can be personalized with the user's name, address, monogram and more – providing endless possibilities for customization. Prices for MeebleMail's email stationery templates range from Free to only $2.99 per design and can be for an annual subscription.
For more information, visit http://www.meeblemail.com or contact Co-Founder, Sharon Gaffney via email at sharon (at) meeblemail (dot) com or by phone at 914.315.9423.