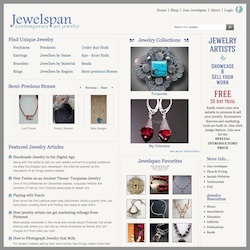 People don't come here to find run-of-the-mill jewelry. They're interested in unique, high-quality craft and wearable art.
Lambertville, N.J. and New York (PRWEB) February 12, 2013
Artspan, a major art destination and leading provider of artist websites, announces the launch of Jewelspan.com, a sister site devoted entirely to handcrafted art jewelry. Like Artspan members, all Jewelspan members are professional artists showing original work.
Artspan boasts 250 jeweler websites, of its 4,000 total sites, and these jeweler sites will now also be featured on Jewelspan. The multiple and intuitive search options on Jewelspan make it easy to shop the individual websites which can, at the jeweler's option, feature multiple views of each jewelry item, as well as zoom enlargements, and as many galleries as are needed.
"People won't come here to find run-of-the-mill jewelry. They're interested in unique, high-quality craft and wearable art," says Eric Sparre, founder and owner of Artspan and Jewelspan. "Working with the jewelers, we need to present the jewelry accurately and fully and in an appropriate setting on each website."
Unlike most online marketplaces, Jewelspan allows artists to present their jewelry under their own domain names, with detailed bios, image galleries they control, fully customizable site designs, optional blogs and a shopping cart that is integrated into their individual sites. All sites are social media enabled.
Because it will be a direct extension of Artspan, Jewelspan artists can take advantage of the parent site's visibility and search engine rankings. Visitors spend an average of four minutes browsing the site, are highly educated and primarily female - the perfect market for art jewelry. The jewelry offered ranges from sophisticated metalwork to biwa pearls, found objects and metal clay. All jewelry is sold with an unconditional returns guarantee.
"It's the duality we offer that makes Jewelspan unique," Sparre says. "Jewelry artists get their own branded full-featured storefronts and, at the same time, become part of a larger marketplace that is far more accessible to buyers on the Internet than any individual website."
Like Artspan, Jewelspan will attract artists who want more control over their brand – including their own domains and customized site design – and don't want to struggle to stand out from the crowd with the constant relisting or lowball pricing required on Etsy. Jewelspan offers jewelers responsive customer service and a fully customizable website where they can choose a logo, typography and color scheme that suits their work and their brand.
New Jewelspan members can take advantage of an introductory price of $99 per year – a little over $8 a month - for a full-featured website and Jewelspan membership.
"I've been so happy with Artspan and I'm hoping Jewelspan will become the premiere showcase for independent art jewelers," says Karen Hawkins, who's been showing her beadwork on Artspan since 2010 under the domain The Mad Beader. "I like the quality you find here, it's very reasonable, and the owners are constantly upgrading and making it easier to navigate."
"People sometimes ask me why I'm not on Etsy," Hawkins says. "For one thing, there are way too many sellers and too much underpriced work. It's hard to stand out. I think it's great that it's out there, but it's not for me."
Contact:
Eric Sparre, Artspan Founder
director (at) artspan.com
267.614.7864
About Jewelspan:
Jewelspan.com is a new boutique collection of artist websites specifically targeted to buyers looking for handcrafted jewelry. Its websites also appear on Artspan.com. Member websites have their own domain names and can be directly accessed by entering the domain name in a browser search window. They are also accessible with Jewelspan using keywords and categories and mediums searches which can be filtered or sorted by price and location. For more information, visit at http://www.jewelspan.com
About Artspan:
Founded in 1999, Artspan.com is a major contemporary art destination and the leading provider of premium websites for artists, artisans and photographers. The 4,000 Individual Artspan member sites have their own domain names and can be reached by entering the domain name in the browser search window, or via Artspan keyword and category searches. User-friendly search functions, combined with the quality of the Artspan offering, has made Artspan a preferred destination for collectors, consultants, and designers. For more information, visit http://www.Artspan.com.