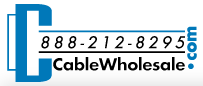 "At CableWholesale, we focus on providing our customers high quality products at discount prices," said a CableWholesale representative
(PRWEB) February 24, 2013
CableWholesale, the leading cable and wire wholesaler, today highlighted two recent electronics safety warnings from the independent safety science company Underwriters Laboratories (UL). The first warning, issued on January 15, 2013, informed customers, regulatory agencies, and other interested parties of a counterfeit CMR communications cable that is missing the required flame retardant. This potentially dangerous cable is known to have been sold at overstock.com and a full description can be read at: http://www.ul.com/global/eng/pages/corporate/newsroom/newsitem.jsp?cpath=%2Fglobal%2Feng%2Fcontent%2Fcorporate%2Fnewsroom%2Fpublicnotices%2Fdata%2Ful-warns-of-potentially-hazardous-communications-cable-release_20130115080000.xml. The other notice, issued on January 31, 2013, warned about a similar communications cable missing the required flame retardant and thus posing a fire hazard. This cable has been sold at greenconnectionsusa.com and more information can be read at: http://www.ul.com/global/eng/pages/corporate/newsroom/newsitem.jsp?cpath=/global/eng/content/corporate/newsroom/publicnotices/data/ul-warns-of-potentially-hazardous-communications-cable-release_20130131080000.xml
"At CableWholesale, we focus on providing our customers high quality products at discount prices," said a CableWholesale representative. "Unfortunately, some sellers try to cut corners and their products—whether USB cables, HDMI cables, VGA cables, and the like—often fail to meet the necessary safety criteria. That's why we have each of our products thoroughly inspected three times and value the amazing and necessary efforts of companies like UL who are dedicated to protecting consumers across the globe."
CableWholesale offers a wide variety of electronics and cables housed in their warehouses on the east and west coasts of the United States. The dual coastal warehouses ensure shorter shipping times for CableWholesale customers. Their inventory includes more than 3,600 products available via their online store or by telephone. This vast inventory includes component video cables, HDMI cables, iPhone chargers, USB cables —both USB 2.0 and USB 3.0—cat 6 cables, and much more. Each of these products comes with CableWholesale's lifetime guarantee.
About CableWholesale
Founded in 1996, CableWholesale has worked tirelessly to provide the highest quality products at the lowest possible price. This mission is exemplified in their slogan: "Why pay more?" Starting with a small shop, CableWholesale has grown to be an international supplier with large warehouses in both California and Georgia. CableWholesale is accredited as a women-owned business by the Women's Business Enterprise Council and as a minority-owned business by the Northern California Minority Supplier Development Council. CableWholesale is also accredited with an A+ rating by the internationally recognized Better Business Bureau. For more information, please visit their website http://www.cablewholesale.com, call them at 888.212.8295, or join them on Facebook, Twitter, LinkedIn, and Google+.