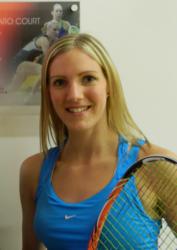 (PRWEB UK) 8 February 2013
World No.3 and British No.1 squash player Laura Massaro is launching an international professional women's squash tournament at her home club, David Lloyd Chorley, later this month.
The $10,000 (£6,200) WSA (Women's Squash Association) Courtcare Open is set to attract professional squash players from all over the world and will run at the Lancashire premium racquets, health and fitness club from February 28-March 3.
Laura, who has trained at David Lloyd Chorley since turning professional 10 years ago, is teaming up with her brother, Manchester's National Squash Centre head coach, Chris Lengthorn, to host the event, with spectator tickets on sale to members and non-members.
The Chorley squash star, who plays for Blackburn side East Lancashire in the North West Counties Squash League, is running her first world-class competition in her home town on a court at David Lloyd Chorley named last year in her honour.
Laura, who recently reached the final of the Cayman World Open and the World Squash Series, commented: "I've always wanted to put something back into the game, the local community and also the club which has supported and inspired me throughout my career.
"I've played in all of the biggest tournaments across the world but this one is special to me because we have organised it ourselves. We are aiming to grow the event and have a plan to keep it going for at least the next 3 years."
General manager at David Lloyd Chorley, Richard Furlong, said: "It's a fantastic opportunity for the local community to see professional squash players in action. David Lloyd Chorley is a local hub for squash enthusiasts and the event is a great way to raise the profile for the sport and hopefully help create a legacy for the next generation of squash players."
The squash siblings are holding workshops and coaching sessions in junior and secondary schools, culminating with a competition in the lead-up to the tournament.
There will be a number of world top 20 ranked players taking part in the Courtcare Open, including Massaro's England team-mate Sarah Kippax.
For tickets, contact David Lloyd Chorley on 01257 235100 or visit the club in Moss Lane, Whittle-le-Woods, Chorley, PR6 8AB. Tickets are £3 for members and £5 for non-members.
ENDS
Note to editors: For further information about this press release, contact the David Lloyd Leisure press office on 01707 289833/4 or email press@davidlloyd.co.uk.
About David Lloyd Leisure Group
The David Lloyd Leisure Group operates 81 clubs in the UK and a further 10 clubs across Europe. It has over 440,000 members and employs 6,000 people. This includes an expert health and fitness team of over 1,800, while it contracts the services of more than 400 tennis professionals. Across all clubs, David Lloyd Leisure has over 150 swimming pools (of which half are indoor) and offers over 10,000 exercise classes per week. Every week 20,000 children learn to swim at David Lloyd Leisure and 14,000 learn to play tennis. Its racquets facilities are unparalleled with 700 racquets as well as 180 badminton courts and 140 squash courts. Additional facilities include health and beauty spas, club lounges with free Internet access, crèches, nurseries and specialist sports shops.
About Laura Massaro
The English international started working as a receptionist at David Lloyd Chorley to help subsidise her travel costs as an up and coming squash junior 10 years ago before being awarded a complimentary membership as a full-time professional and one of the world's best players.
Laura, who regularly trains at the club, is the 2011 Women's Squash Association (WSA) 'Player of the Year', 2011 US Open Champion, a Commonwealth silver medallist and she has won consecutive British National Championships in 2011 and 2012.